The Rising Sun Volunteer Fire Department is the latest organization to receive a generous grant from OCCF.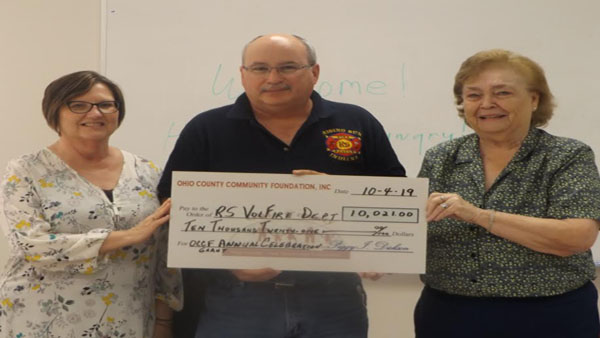 (Rising Sun, Ind.) - The Ohio County Community Foundation (OCCF) has been funding projects and programs benefiting Ohio County residents for 21 years (1998-2019). The mission of the Ohio County Community Foundation is to build, manage and distribute a lasting source of charitable funds for Ohio County.
The Foundation has been blessed to be a part of a granting process that allows them to hear many vital, innovative and ambitious proposals. Proposals designed to benefit Ohio County and its' residents. Grants are made in the areas of cultural affairs, education, community development, health, scholarships and human services.
During the Annual OCCF Celebration Grant interviews held in October, OCCF Board and Staff were fortunate to hear many compelling and worthwhile funding requests. The Rising Sun Volunteer Fire Department proposal presented by Firefighter Thomas Moore was chosen as the
2019 grant recipient. The Fire Department received a grant in the amount of $10,021 to purchase a bundle of 16 items needed to provide the best fire protection services to citizens, as well as to ensure the safety of firefighters.
While only one organization could be chosen to receive the grant, OCCF would like to share a brief synopsis of those needs not funded, so that the community is aware of the many non-profits that are serving our residents. All of these organizations were encouraged to resubmit their proposal during the next Community Grant Cycle for future funding consideration.
City of Rising Sun presented by Bryce Kendrick, City of Rising Sun Grant Writer: Seeking financial assistance to help ensure future viability of the Rising Sun Schools Backpack Program. The Backpack program is an ongoing program benefiting underprivileged children in the Ohio County school system. It ensures that students who qualify are provided with food they can take
home and eat on weekends.
Rising Sun Municipal Utilities presented by Bryce Kendrick, City of Rising Sun Grant Writer: Purchase 29 utility poles and associated parts for phase 2 of the three-part project. The nearly five-decade old, weathered poles will be replaced with brand new steel or iron poles to prevent a widespread outage.
Rising Sun/Ohio County School Corporation presented by Branden Roeder, Superintendent: Funding for a new speaker system in the high school gymnasium to replace the antiquated system. A new system would provide better sound quality to all gymnasium patrons at all events.
Ohio County Rescue Services Inc. presented by John Lewis, EMS Director: Replace and/or update outdated and failing radio equipment. These radios are used for EMS, fire, police and dispatch to communicate with each other. New radio equipment will provide EMT's with more
effective communication with each other and dispatch during emergencies.
Ohio County Sheriff's Department/Courthouse presented by Charles Cleary, Courthouse Security Deputy: The purchase of enhanced courthouse and surveillance equipment. This project would also include surveillance of a proposed public parking area for a safe exchange
zone. The area could be used for child and commerce exchange.
Conductors of Southeastern Indiana Model Train Association, presented by Mike Estep, Vice-President (The Conductors applied under the umbrella organization of Historic Hoosier Hills Research, Conservation & Development, Inc.): Purchase construction materials for
portable modules to allow for quicker set up and transpiration to train shows. They would also like to purchase an enclosed trailer to haul the trains to locations such as hospitals, nursing homes, etc.
The Ohio County Community Foundation would like to thank all of these selfless organizations for submitting such incredible grant proposals. It was a very tough decision. They would also like to again, Congratulate Thomas Moore and the Rising Sun Volunteer Fire Department for
being chosen as this years' OCCF Celebration Grant recipient. For more information concerning the Ohio County Community Foundation, please contact Peggy Dickson, Executive Director at 812-438-9401.