The county clerk or courts is clearing up some confusion about how the county's new voting centers model will work.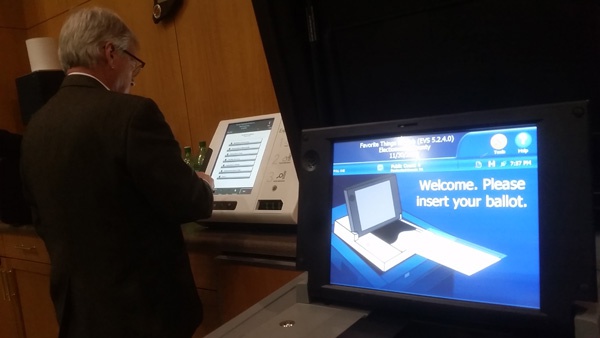 New voting and ballot scanning machines will be used at Dearborn County voting centers in the 2019 municipal elections. File photo.
(Lawrenceburg, Ind.) – The Dearborn County Clerk of Courts wants voters in Lawrenceburg, Greendale, and Aurora to know that they won't be restricted to just one polling place on Primary Election Day, May 7.
Dearborn County is transitioning to a vote centers model for the first time this year. The model reduces the number of polling places in the county – reducing costs and poll workers needed – but allows voters to cast their ballot at any of the available polling locations instead of being assigned to voting at a specific precinct.
The switch received final approval from the Indiana Secretary of State last month.
Clerk of Courts Gayle Pennington says vote centers for the primary will be located at the Tate Street Firehouse in Lawrenceburg, Greendale Cabin, and the Aurora Park Pavilion.
"Any registered voter within City limits may vote at any one of these three locations. All locations will have all voter and candidate information," says Pennington.
In other words, Lawrenceburg city residents can vote this year at the Greendale Cabin or the Aurora Park Pavilion. Greendale and Aurora voters can also cast their ballots at any of the other vote centers.
Keep in mind, 2019 is a municipal election year in Indiana. In most cases, Hoosiers won't vote unless they are within an incorporated town or city. There could be exceptions for issues voting or other circumstances.
Pennington adds that Dearborn County will again be offering early voting by mail or in-person at the Dearborn County Administration Building. Early voting begins April 8 and will be available every week day from noon until 4:00 p.m. The early voting office will also be open April 27th and May 4th from noon until 4:00 p.m.
Dearborn County will also offer in home early voting by our Travel Board.
Valid applications must be filled out by the voter to vote early.
RELATED STORIES:
It's Official: Dearborn County Now Using Vote Centers For Elections
Vote Center Town Halls Give Dearborn Co. Voters A Trial Of New Machines
Dearborn County Citizens Get Opportunities To Talk Voting Centers
The Way Dearborn County Votes Could Be Changing
Call For Poll Workers As Vote Center Decision Looms In Dearborn Co.
Dearborn County Task Force To Consider Voting Centers For Elections