The Indiana Secretary of State's Office Election Division has given approval of the county's vote centers plan.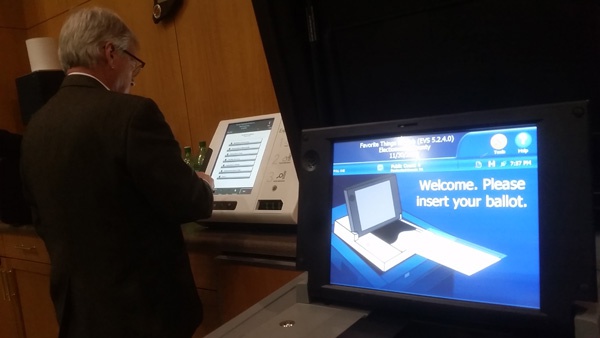 At a town hall meeting held Monday, December 3, Dearborn County Commissioner Jim Thatcher tries out the new voting machines which will allow the county to switch to a vote centers model in 2019. Photo by Mike Perleberg, Eagle Country 99.3.
(Dearborn County, Ind.) – The way Dearborn County residents vote will undergo a few changes starting this year.
County Clerk of Courts Gayle Pennington says the county's vote center plan was officially approved by the Indiana Secretary of State's Office Election Division on Thursday, January 17.
"I am so very excited that Dearborn County has decided to make the switch to vote centers," Pennington said in an announcement. "It's taken a lot of planning and hard work from all those involved, but the benefits to the voters of our county will be well worth the effort we have spent implementing the new model."
Switching to a vote centers model means that the county will need fewer poll workers because there will be fewer polling places open. Some residents may need to travel a little farther to get to a polling place on Election Day, unless they request an absentee ballot by mail.
The trade-off is that Dearborn County voters will be able to go to any of the polling places in the county, instead of being limited to voting at an assigned polling place near their home.
"Ultimately, our goal is to make voting easier and more convenient for the voters of our county while also saving county money," said Pennington.
A series of public town hall meetings were held across the county in December to educate and allow citizens' input on switching to vote centers.
The 2019 May party primary election will be the first in which Dearborn County will use vote centers and new, digital voting machines. The municipal election year means only voters in cities and towns will vote, allowing for the first run of vote centers to be on a smaller scale than a county-wide election.
Instead of 35 voting precincts in the county as there were in past elections, there will be just 10 in county-wide elections. According to the county's vote center plan, four of the locations have been determined: Lawrenceburg Firehouse on Tate Street, Greendale Cabin, Aurora Park, and Dillsboro Civic Center.
Six other locations are still to be decided, but won't need to be used until the next county-wide election in 2020.
According to Pennington, the vote centers throughout the county and their equipment supplied by the county's vendor, Election Systems & Software, will be linked by secure internet connections. An electronic poll book is instantaneously updated as ballots are cast. A paper copy of each voter's ballot will be printed at the time they make their selections and retained for potential recounts.
Printing ballots at the time a voter visits a polling place will spare the county the expense of having to print off in advance enough ballots for every one of the voters registered in the county.
Pennington previously told Eagle Country 99.3 that the savings with a vote centers model could be around $100,000 per election year. The county has been budgeting about $112,000 per election, with about $40,000 alone spent on printing ballots. Fewer poll workers and less voting equipment will also mean a cost savings for county taxpayers over time.
Despite the vote centers switch, you can still vote early by visiting the Dearborn County Government Center in Lawrenceburg for about 30 days leading up to each Election Day.
To view Dearborn County's vote centers plan, visit https://www.dearborncounty.org/egov/documents/1547062243_84756.pdf. More information on vote centers in Indiana is available at www.VoteCenters.IN.gov.
RELATED STORIES:
Vote Center Town Halls Give Dearborn Co. Voters A Trial Of New Machines
Dearborn County Citizens Get Opportunities To Talk Voting Centers
The Way Dearborn County Votes Could Be Changing
Call For Poll Workers As Vote Center Decision Looms In Dearborn Co.
Dearborn County Task Force To Consider Voting Centers For Elections