The incident happened on Tuesday, January 7.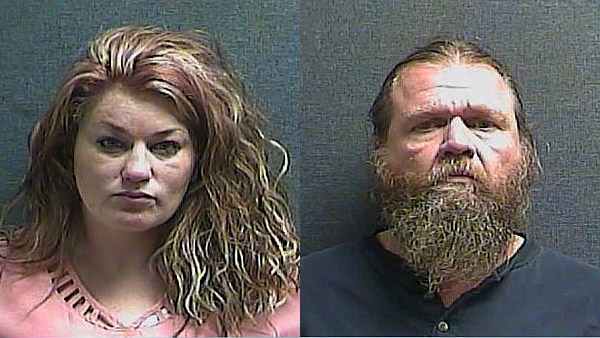 (Boone County, Ky.) - After being pulled over for several traffic violations, two Kentucky people are facing more than just charges for careless driving.
On Tuesday, Boone County Police stopped a 2015 Chrysler 200 just south of Richwood on I-75 for careless driving, including changing lanes without using a turn signal.
Robert H. McKenzie, 49, of Olympia, Kentucky and Tiffany G. Marlow, 31, of Salt Lick, Kentucky were the occupants inside the vehicle.
Immediately upon contact, deputies suspected use and concealment of illegal drugs due to the mannerisms of the two individuals.
Marlow first admitted to having heroin in a "loaded syringe," while McKenzie later admitted to having cocaine.
While searching the vehicle, police collected more than $36,000 worth of drugs including 52.4 grams of heroin, 95.56 grams of crack and powder cocaine, 212.8 grams of crystal methamphetamine, and 6.52 grams of marijuana.
In addition to the illegal drugs, deputies seized approximately $950 in cash.
Both face charges of Trafficking in Controlled Substance 1st Degree - Methamphetamine (Class C Felony), Trafficking in Controlled Substance 1st Degree - Cocaine (Class C Felony), Possession of Marijuana (Class B Misdemeanor), Drug Paraphernalia - Buy/Possess (Class A Misdemeanor).
McKenzie faces additional charges of Careless Driving, Failure to or Improper Signal, Operating with an Expired Operators License and No Registration Receipt.
Marlow faces additional charges of Trafficking in Controlled Substance 1st Offense – Heroin (Class C Felony), Importing Heroin (Class C Felony), and Failure to Wear Seat Belts.
McKenzie and Marlow already had active warrants out for their arrest before they were stopped. McKenzie was served with a parole violation warrant, and Marlow was served with a child support warrwant and misdemeanor theft warrant.
Both are being lodged at the Boone County Detention Center.
McKenzie is held under a $75,000 cash bond for the new charges. There was no bond listed on the parole violation warrant.
Marlow is held under a $50,000 cash bond on the new charges and an $18,000 cash bond for the warrant of theft and child support.