Crews are on schedule to complete the project this fall.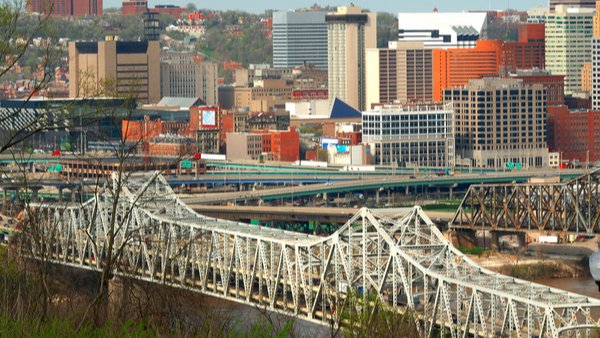 Shutterstock photo.
(Covington, Ky.) - The Kentucky Transportation Cabinet District 6 provided an update on the Brent Spence Bridge project on Thursday.
Branch manager Cory Wilson said in a YouTube video that the routine maintenance project is "about 50 percent" done.
The project began on March 1.
Wilson says the routine maintenance will help keep the bridge safe and sturdy for years to come.
As work continues, so to does daily backups on the "Cut in the Hill", particularly on the northbound side coming into downtown Cincinnati. The following ramps will remain closed through the duration of the project.
In Ohio:
The ramp to I-71 southbound from Fort Washington Way
The ramp to I-71 southbound from Third St.
There will be no access to I-71 southbound from Downtown Cincinnati.
In Kentucky:
The ramp to I-71/75 northbound from Fourth St.
Drivers are encouraged to plan their daily commute ahead of time, and use alternative routes, if possible.
The KYTC says the $36 million project is on schedule to be completed by mid-November, weather permitting.
RELATED STORIES
Dangerous Driving Concern Develops Around Spence Bridge Project
KYTC: Routine Maintenance Project On Brent Spence Bridge Begins March 1
VIDEO: KYTC Releases Never Seen Footage, Candid Accounts From Brent Spence Bridge Fire
Brent Spence Bridge Set To Reopen This Afternoon
KYTC Secretary Gives Update On Brent Spence Bridge Repairs
KYTC Announces Projected Reopen Date For Brent Spence Bridge
Anderson Ferry Extending Hours To Help Motorists Impacted By Spence Bridge Closure
ODOT Making Improvements During Brent Spence Bridge Closure
UPDATE: Brent Spence Bridge Closed For Extended Time; Detours Announced