Cleaning and painting work will take place for a good majority of 2021.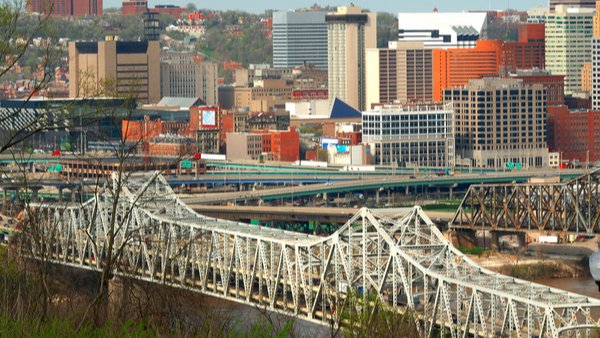 Shutterstock photo.
(Covington, Ky.) – Routine maintenance has been scheduled for the Brent Spence Bridge.
The Kentucky Transportation Cabinet announced today a project to clean and paint the Brent Spence Bridge will begin on Monday, March 1, weather permitting.
The project, which is scheduled to be completed by November 15, will require various lane closures on the bridge, as well as the closure of several ramps that provide access to the bridge.
Bob Yeager, Chief District Engineer of KYTC's District 6 Office, says the bridge hasn't been painted since 1991. He added that the project is part of the normal lifecycle of a major structure like the Spence Bridge.
"Just as you have to perform regular maintenance on your personal property like your car and your home so it stays in good working order, we have to perform regular maintenance on our public infrastructure to ensure it remains safe for long-term use," Yeager said. "The average life expectancy of a paint job of this nature is about 20 years. We've been able to extend that life cycle by performing routine upkeep, but now is the time for a more comprehensive cleaning and painting of the entire structure."
On March 1, crews will begin setting up containment and other equipment that will support the first phase of work on the bridge.
During Phase 1, the two easternmost lanes of the bridge will remain open, and the two westernmost lanes will be closed. As the project progresses, the two westernmost lanes will be open and the two easternmost lanes will be closed.
The following ramps will be closed for the duration of the project:
In Ohio:
The ramp to I-71 southbound from Fort Washington Way
The ramp to I-71 southbound from Third St.
There will be no access to I-71 southbound from Downtown Cincinnati.
In Kentucky:
The ramp to I-71/75 northbound from Fourth St.
Drivers are encouraged to plan their drive, and when possible, use alternate routes to get around the bridge.
Project status and related traffic information will be provided on the project website – BrentSpenceBridgeInfo.org.