Crews will be working 24/7 but safety remains the top priority of the project.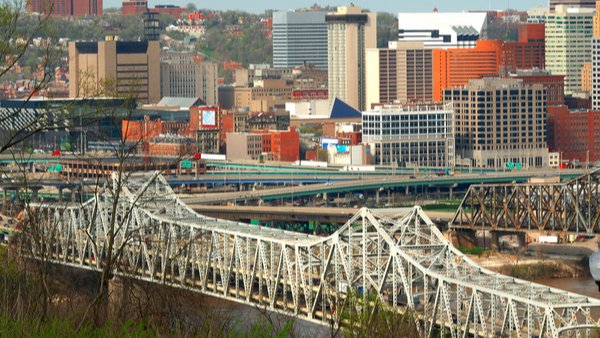 (Covington, Ky.) – Deliberate repairs are continuing on the Brent Spence Bridge.
Kentucky Transportation Cabinet Secretary Jim Gray provided an update on the repair project Wednesday morning after a fiery crash damaged a portion of the bridge on November 11.
Gray crews will be working 24/7 through Thanksgiving and weekends to keep the project on track, which has a target completion date of December 23.
However, the project will not be rushed along, according to Gray. "Safety remains our number one priority. There will be no cutting corners," Gray added.
National and local talent have come together to develop and implement a plan for the permanent repairs to the bridge.
Those repairs include:
Replacing a section of the concrete as well as some of the support beams on the upper deck that carries southbound traffic from Ohio to Kentucky;
Replacing a section of the concrete on the lower deck that carries northbound traffic from Kentucky to Ohio;
Repairing electrical and drainage systems on the bridge
Gray says the first batch of support beams are in route to the bridge.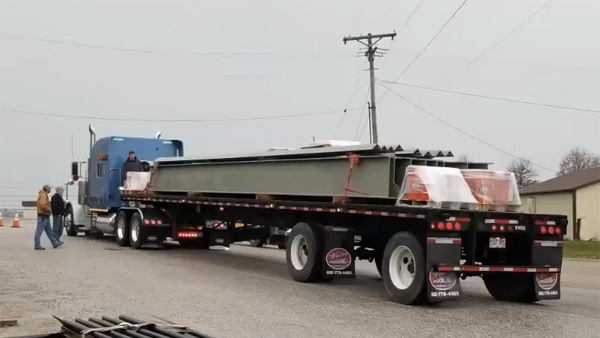 Steel support beams are in route to the bridge. Photo by KYTC.
He added that the damaged portion of the concrete area spans approximately 6,900 square feet. The KYTC has received initially funding of $12 million for bridge repairs.
Gray stated the full cost of the project is unknown at this time.
Aside from making repairs to the bridge, the KYTC is managing a significant traffic dilemma. Around 170,000 vehicles travel across the Brent Spence Bridge on a daily basis.
That traffic is being re-routed to help alleviate congestion in and around downtown Cincinnati. Current detours are as followed:
Through traffic traveling NB on I-75/71 from Kentucky is being detoured at I-275 WB to I-75 NB or I-275 EB to I-471 NB and then to I-71 NB.
I-71 SB traffic is being detoured to I-471 SB and then to I-275 WB.
I-75 SB traffic is being detoured to I-275 WB.
Additional detour options in and around Cincinnati include I-471, I-71, I-74, and I-275 and U.S. 50, but expect heavier-than-normal traffic.
A single lane of I-71/75 northbound is open for passenger car traffic from the I-275 interchange to 5th Street in downtown Covington (Exit 191). Ohio traffic and trucks must use I-275.
Local traffic can use I-471 (Daniel Carter Beard Bridge) between Cincinnati and Newport, the Clay Wade Bailey Bridge (U.S. 25), and the Taylor Southgate Bridge (U.S. 27).
Local passenger vehicle (non-commercial) traffic may also use the John A. Roebling Bridge (KY 17). Heavy trucks and buses are prohibited on the bridge.
Secretary Gray has also signed an official order to deter large trucks from bypassing I-71/75 detour and going into downtown Covington, causing traffic jams. There are exceptions for trucks making local deliveries. Traffic is being continuously monitored.
For more information, visit www.brentspencerepair.com.
RELATED STORIES
KYTC Announces Projected Reopen Date For Brent Spence Bridge
Anderson Ferry Extending Hours To Help Motorists Impacted By Spence Bridge Closure
ODOT Making Improvements During Brent Spence Bridge Closure
UPDATE: Brent Spence Bridge Closed For Extended Time; Detours Announced