A total of 26 wrestlers from southeastern Indiana will compete at semi-state on Saturday.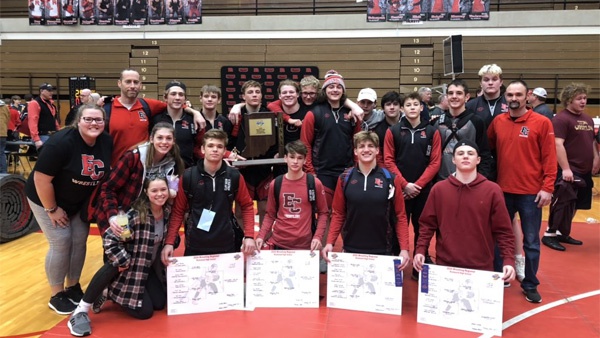 East Central following their Regional Championship at Richmond. Photo via East Central Athletics.
(New Castle, Ind.) – Twenty-six wrestlers from southeastern Indiana will look to punch their ticket to State this weekend.
The IHSAA Wrestling State Tournament rolls on Saturday, February 15 at four locations throughout Indiana.
Twenty-four local wrestlers will compete at the New Castle semi-state, while two other area stars will travel to Evansville Reitz.
East Central wrestlers will highlight the field at New Castle after winning their first team Regional Championship since 2006.
The Trojans are led by Blake Wolf (44-0, 113 lbs.) Bryer Hall (37-0, 152 lbs.), Kole Viel (43-2, 182 lbs.) and Kyle Krummen (39-1, 195 lbs.), among others.
Lawrenceburg, South Dearborn, Milan and Batesville will be well represented at the New Castle semi-state.
The 106-pound tournament will feature Milan senior Garret Condo (41-2) and East Central freshman Dylan Lengerich. Condo got the best of Lengerich in the regional championship. If they are to meet again, it could be in the semi-state finals.
Carmel senior Suhas Chundi (33-2) is the highest-ranked 106-pounder at the New Castle semi-state, according to www.indianamat.com.
At 113 pounds, East Central freshman Blake Wolf is one of the favorites to advance to State. He is ranked fourth behind Perry Meridan junior Alex Cottey, Frankfort sophomore Elijah Anthony and Carmel sophomore Brac Hooper.
Milan sophomore Ashton Myers (33-10) and East Central senior Tyler Schneider (33-6) will compete in the 120- pound tournament. Myers drew Indianapolis Cathedral's Zeke Seltzer (35-0) in the first round. Schneider's first round opponent is Andrew Dietz, a sophomore from Anderson.
South Dearborn junior Eli Otto (35-3) and East Central freshman Rider Searcy (40-4) will look to make a run at 126 pounds. Otto won the regional at Richmond last weekend. Searcy finished third.
At 132 pounds, individuals from Lawrenceburg and Milan will be tested early, drawing the top two wrestlers. Indians star Shane Lonneman (37-7) will take on top-ranked Aundre Beatty (25-5) of Warren Central. Lawrenceburg sophomore Corbin Walston (30-3) is matched up with Perry Meridian sophomore Matthew Koontz (20-3).
East Central sophomore Charlie Euson (32-11) will take on Alexandria Monroe sophomore Max Naselroad (31-1) in the first round of the 138-pound tournament.
Regional champion Ben Wolf (41-3) drew Beech Grove senior Harley Taylor (34-7) in the first round of the 145-pound tournament. Lawrenceburg sophomore Jayce Bohan (31-6) will take on Jajuan Anderson (30-3) from Warren Central, while Batesville senior J.T. Linkel (36-8) will take on top-ranked Alex Viduya. The Roncolli product is 37-0.
Bryer Hall is another East Central wrestler who won an individual Regional championship. At 37-0, Hall is one of the favorites to advance to State at 152 pounds. The Trojans star will face off with Carmel's Paul Ginella in the first round of semi-state. Batesville's Josh Mobley (36-7) drew Westfield sophomore Alec McLaren (25-16).
Lawrenceburg's Andrew Roth (40-1) has been among the top wrestlers in the state at 160 pounds. The Tigers star and Regional champ comes into Saturday ranked fifth in the 160-pound semi-state tournament. East Central's Kasey Carr (34-10) will also compete at 160. Roth defeated Carr in the Regional championship.
East Central senior Brady Rullman will seek to upset top-ranked Tyler Wagner in the first round of the 170-pound tournament. The Indianapolis Cathedral star is 32-5.
Trojans star Kole Viel (43-2) is among the top wrestlers at 182 pounds. Viel has drawn Franklin Central senior Gavin Keesee (24-11) in the first round. South Dearborn's Kenneth McGill (28-12) will tangle with Perry Meridan's Aiden Warren (30-3) in round one.
His teammate, Kyle Krummen (39-1) was a state qualifier last season. He enters Saturday's semi-state tournament ranked third at 195 pounds. The Trojans star takes on Brebeuf Jesuit junior Isaiah Martin in the first round. Shenandoah's Silas Allred and Fishers' J.D. Farrell are among the top competitors at 195.
Lawrenceburg's Noah Rowlett (27-9) will take on top-ranked North Montgomery star Drew Webster (37-0) in the 220-pound tournament.
And at 285 pounds, Milan's Brady Myers (37-7) and South Dearborn's Jackson Goodall (22-7) will look to make a run to State. They might stand in each other's way being drawn on the same side of the bracket.
Switzerland County wrestlers Austin Wolf (126) and Jacob Wolf (132) will compete at the Evansville Reitz semi-state.
The top four place winners in each weight class will advance to the State Finals at Bankers Life Fieldhouse in downtown Indianapolis on February 21 & 22.
The State Championship brackets will be announced Sunday, February 16 at 4:00 p.m. via www.IHSAAtv.org.