The 2019 regular season doesn't start for another week, but some local high school football teams are ranked to start the year.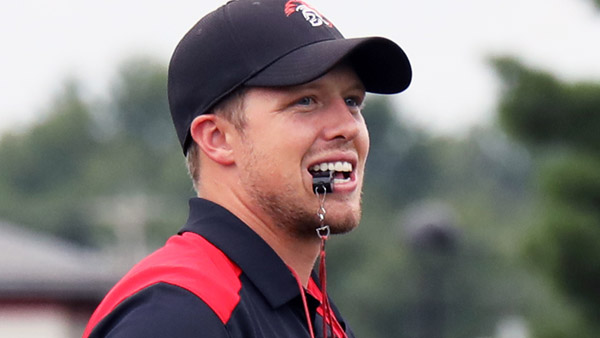 East Central High School varsity football head coach Jake Meiners. Photo by Sandy Mahoney.
(Lawrenceburg, Ind.) – We may not be crowning new high school football state champions until after Thanksgiving, but Indiana coaches and media have weighed in on who they feel are the best teams.
Preseason polls have come out from the Indiana Football Coaches Association and the Associated Press.
East Central (11-2 in the 2018 season) is the highest-ranked team from southeastern Indiana ahead of their first game. The Trojans are third in the AP poll behind #1 Northwood and #2 Mishawaka. In the IFCA poll, EC is #4, with #1 Marion, #2 Evansville Central, and #3 Mooresville ahead. The Trojans graduated a great senior class from last year's sectional champions, but new coach Jake Meiners is working to continue the program's perennial success.
In the 3A standings, two other Eastern Indiana Athletic Conference teams make appearances. Batesville (9-3) is ranked #12 in the AP poll and #14 in the IFCA poll. Lawrenceburg (5-6) ranks #11 in the coaches poll, but does not appear in the AP's top 20 rankings.
Class 1A newcomer Milan (6-4) is ranked #18 in the coaches poll, but unranked in the AP poll.
Many teams have scrimmage games scheduled for this Friday, August 16. High school football regular season in Indiana will kick-off on Friday, August 23. Eagle Country 99.3's Week 1 feature game on your radio will be East Central at Lawrenceburg.
Complete weekly team rankings are available on John Harrell's Indiana High School Football website at indianahsfootball.homestead.com.