Dearwester went 32-1 this year and won the state championship at 106 lbs.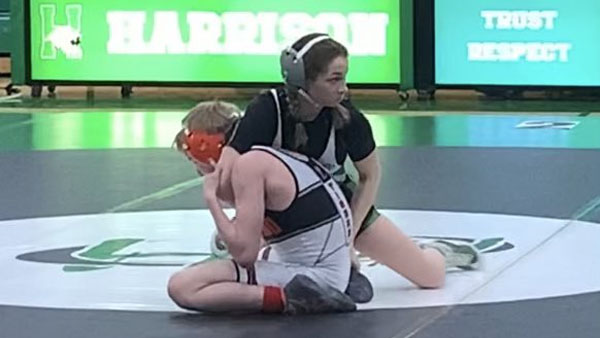 Photo via Harrison Girls Wrestling (@girls_harrison).
(Harrison, Oh.) – It has been a banner year for Chloe Dearwester.
The Harrison High School wrestler was recently named the 2021 SWOWCA Girls Division Wrestler of the Year.
Dearwester broke onto the scene in December when she became the first girl in program history to win a varsity wrestling match.
She would go on to win the OHSWCA Girls State Championship at 106 pounds in February. At the state finals, Dearwester went 4-0, winning all four matches by pinfall.
Dearwester finished the season with a record of 32-1.
Congratulations to the #SWOWCA Wrestler of the Year - Girls Division

CHLOE DEARWESTER
Harrison High School@girls_harrison @WrestlingHW @wildcatsofhhs pic.twitter.com/NAdXGkY1lW

— SWOWCA (@SWOWCA_) April 7, 2021
RELATED STORIES
Harrison Girls Finish 5th At State Championship; Dearwester State Champ At 106 Lbs.
Harrison's Dearwester Becomes First Girl To Win Varsity Wrestling Match