Both teams are ranked and have aspirations of winning a state championship.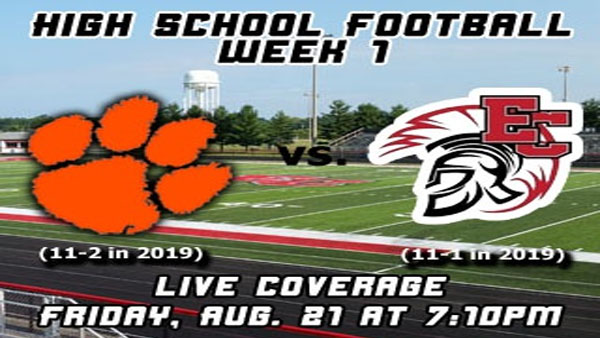 (Lawrenceburg, Ind.) – Two teams with state championship aspirations will kick-off the Indiana high school football season tonight.
East Central and Lawrenceburg will tangle in St. Leon with the game being broadcast on Eagle Country 99.3 at 7:30 p.m. Pre-game coverage will start at 7:10.
The Trojans come into the season ranked #6 in Class 4A, while the Tigers start the season #8 in 3A. The rankings, being EIAC rivals and the talent on both teams is a reason for fans to get hyped up.
RELATED: ECHS Expecting Big Crowd For EC/L'Burg Football Game; Face Coverings Required
For the players and coaches, simply being on the field will be a privilege, especially considering the challenges it took to get to game day.
"I'm just excited we have a chance to allow our seniors and our football team to play," said Tigers head coach Ryan Knigga. "I think the Indiana Football Coaches Association has put together a great plan for us, a re-entry plan. I think it is working and I think it's a plan other states wish they would have copied."
As Lawrenceburg and East Central embark on what can be described as a "weird" season, seeing an all too familiar foe in game one can bring a sense of normalcy to the situation.
"Not only are we familiar with their personnel, but also their coaching staff," said Knigga. "They could say the same about us. There is no doubt when you talk about East Central they just reload. There is no doubt they have a good team, but I also think we have a good team."
HEAR COACH KNIGGA'S FULL INTERVIEW WITH BUBBA BO IN THE AUDIO PLAYER BELOW
Good teams are often filled with good individual players. For Lawrenceburg, they will lean on junior quarterback Garrett Yoon, who is among the best in the state at his position. Going into his third year as a starter, his coach says he can still get better.
"He's a worker, he's training on the weekends, he's doing it the right way," said Knigga. "There is no doubt he can get better. There are somethings we are trying to work on with him to improve his game."
Yoon has some really good talent around him, on both sides of the ball. Coach Knigga says Ethan Parris, Adam Burd, Ashton Craig, Dayha Patel, Aiden Gilmour and Jayce Bohan are just a few names that can or will play at the next level.
The Trojans have a few of those types of guys too, including University of Cincinnati commit Luke Collinsworth, Ryan Bond, Kole Viel, Nathan Griffin and Jake Fike.
However, Fike's status for Friday's game remains unclear after he wasn't featured on the Trojans two-deep roster this week. He rushed for over 1,300 yards a season ago.
That could be a big blow to the Trojans, but Hunter Sohns could be provided an opportunity to shine.
Anyway you slice it, tonight's matchup has a chance to be a lot of fun.
"It should be interesting tonight," said Knigga. "Every day, every time that we are together, every game that we are going get to play is special. I think the game tonight will be special for both teams and both communities.
The Tigers have lost the last 23 matchups with East Central. A win would be special for the Tigers, as we saw last year, the opening game doesn't define how a season will play out.
"Tonight will be a test, it's going to be a physical game," said Knigga. "So, we'll find out early what we have on both side of the ball. This game is always a measuring stick for us, so we'll go up take a great swing and see where we're at."
RELATED STORIES:
AUDIO: Lawrenceburg Tigers Team Preview 2020