After winning the conference and the sectional in 2019, the Tigers are hoping to get their paws on some more championships.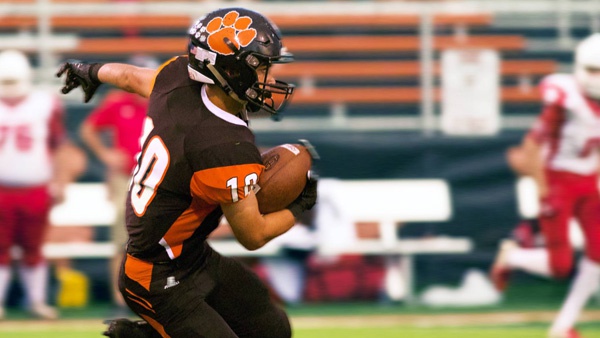 (Lawrenceburg, Ind.) - Could 2020 be the year the Lawrenceburg Tigers football program captures its 20th sectional championship?
Last season, the Tigers (11-2, 3-0 in EIAC 3A) captured their 19th sectional championship and their third in the last four years. Lawrenceburg also won the EIAC 3A Division.
Those will be two goals for Lawrenceburg again in 2020. Some would consider the Tigers to have enough talent to compete for a state championship.
Leading the charge will be junior quarterback Garrett Yoon, senior running back Adam Burd, and two-way lineman Ethan Parris. The trio will be relied upon to produce big numbers and lead in the huddle.
Yoon and Burd were quite the dynamic duo a year ago, combining for 63 touchdowns.
Coming into his third year as a starter, Yoon has developed into one of the best quarterbacks in the state. Last season, he passed for 2,332 yards and rushed for 1,014 yards. Burd was just as dynamic, rushing for over 1,700 yards, in addition to catching 20 balls out of the backfield.
The Tigers also return talented playmakers such as Dahya Patel, Dakota Roth, Aiden Gilmour and Brayden York.
"There's no doubt we have a lot of firepower on that side of the ball," said Knigga. "Our skill guys are just very explosive. When you start talking about Dahya Patel, you got Jake Pierce, you got Aiden Gilmour, and then we have some nice young guys as well that are going to come along for us. Solomon Fisher, Brennan Bushman. We think we can be very explosive. We've had to replace some linemen, but we got good young guys and we have a few guys returning as well."
HEAR COACH KNIGGA'S FULL INTERVIEW WITH DOUBLE T IN THE AUDIO PLAYER BELOW
Lawrenceburg lost some beef on its offensive line, starting with Miami (Oh.) freshman Jason Morton who played well enough last season to earn All-State honors. Jack Bradley, Sam Thayer and Daulton Dixon are gone too. Still, the Tigers return Ethan Parris and Ashton Craig up front. Coach Knigga tells Eagle Country 99.3 that Colton Roth and Lance Bates will be featured on the offensive line.
"There is no doubt we look to put up some points," said Knigga. "I think we can do it through the air or on the ground."
Defensively, the Tigers will lean on their defensive line, which Coach Knigga called "the most improved unit last year."
Again, Ethan Parris and Ashton Craig are expected to be star players in the trenches. Parris is a four-year starter and has received offers from several schools, including Valpo, DePauw, Saint Francis, Dayton, Lawrence Tech, and Mount St. Joseph's. Indiana State is also looking at Parris.
Wyatt Hartman, who primarily played free safety a season ago, will move to the defensive line.
The Tigers linebacker unit will be mostly new with the exception of Noah Rowlett. Jacob Pierce is expected to step into a big role at LB. In the secondary, Lawrenceburg returns Jayce Bohan and Aiden Gilmour, who led the team with five interceptions as a sophomore.
"We like our guys and we think we'll be fairly competitive," said Knigga.
Lawrenceburg's schedule shapes out with five home games and four away games, with their opening contest scheduled for Friday, August 21 at East Central. While game one won't count as a conference game, Coach Knigga expects EIAC teams to be very competitive this season.
"It's going to be a very even EIAC across the board," said Knigga. "I think it will be competitive. Each week presents different challenges, different types of style. The main variable for any team is if you stay healthy or not. If we can hold up, I like our chances most Friday nights."
For Lawrenceburg, the path to another EIAC title goes through Batesville, Greensburg and Rushville. Those teams will also be featured in Lawrenceburg's sectional, in addition to Franklin County, Brownstown Central, Charlestown and Scottsburg.
Coach Knigga says every player that has been a part of the Tigers program since 2011 has won a sectional. The goal is to continue that tradition with the incoming freshman.
"We like championships," said Knigga. "It always makes the awards banquet a little better."
Right now the focus is on making it to week one. The IHSAA has not given any indication that the season will be postponed or pushed back, so the Trojans await on August 21.
"East Central has a powerful offense coming back," said Knigga. "Their linebacking core is probably one of the better ones in the state. When we talk about that game, its a lot of excitement. Over the past couple of years, I think we've come a long way as a program and we've been able to make that game exciting for the most part. Maybe this year we can get over the hump out their in Trojanville and kick in the door and make some noise."
The Tigers have lost 23 straight against East Central, with their last win coming in 1992.
But as we saw last season, the outcome of the first game of the season doesn't dictate how the rest of the season plays out. Lawrenceburg rolled off 11-straight wins including a sectional championship after losing to EC last season.
"We want to win that game but at the end of the day if we win it, great, but we don't want that to be the highlight of our season," said Knigga. "If you ask East Central if they wanted to beat Lawrenceburg or win a sectional, I know what the answer would be. And that would be the same for us. It would be a great win, but we want to take care of business at the end of the season."
LAWRENCEBURG TIGERS 2020 SCHEDULE
Friday, August 21 - at East Central - 7:30 p.m. (Eagle Country 99.3 Feature Game)
Friday, August 28 - vs. TBD
Friday, September 4 - vs. Milan - 7:00 p.m.
Friday, September 11 - vs. Greensburg - 7:00 p.m.
Friday, September 18 - at Franklin County - 7:00 p.m.
Friday, September 25 - at Batesville - 7:00 p.m.
Friday, October 2 - vs. Rushville - 7:00 p.m.
Friday, October 9 - vs. Connersville - 7:00 p.m. (Fan Vote Week)
Friday, October 16 - at South Dearborn - 7:30 p.m. (Eagle Country 99.3 Feature Game)
*Subject to change