Jake Fike, Ryan Bond, Luke Collinsworth, Kole Viel and Nathan Griffin return to lead the Trojans.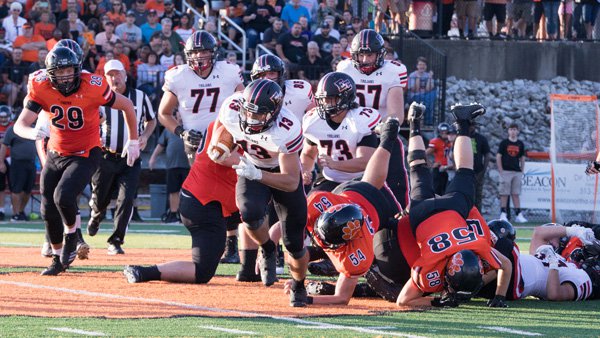 Jake Fike is back for his senior year after posting big numbers as a junior. File photo.
(St. Leon, Ind.) - East Central doesn't rebuild, they reload.
Last season, the Trojans went 11-1 (3-0 in EIAC 4A), but fell short of winning a fifth-straight sectional championship with a narrow 17-14 loss to Mooresville.
East Central has plenty of big names coming back this season, but they also graduated 13 starters (6 offense, 7 defense).
Some new names will be relied upon to step up this year, particularly at wide receiver, defensive line and the secondary. But the goals at East Central remain the same. For second-year head coach Jake Meiners, he wants to win every game the Trojans play.
"Our first goal is to make it to the first game and be as prepared as possible to face a tough Lawrenceburg team," said Meiners. "I know that Coach Knigga will have his guys ready to roll and we must be prepared. Our next goal is to win every game we play. We talk about this a lot as a team. We want to put our best foot forward every time we play. We have to be prepared, disciplined, and play our style of football. If we do that, we will have success. Finally, our last goal is to simply have fun. With everything our players have endured the last few months, they deserve to have fun. It has been really nice these last few weeks to get back to some sense of normalcy."
Normalcy at East Central includes playing smashmouth football, controlling the game by running the ball and playing strong defense. That style has a way of breaking down opposing teams both mentally and physically.
Offensively, East Central welcomes back quarterback Ryan Bond, running back Jake Fike and tackle Luke Collinsworth. As a junior, Fike was among the best running backs in the state rushing for 1,353 yards and 24 touchdowns. Bond was efficient as a passer, completing 62 percent of his passes for 1,311, 17 touchdowns and just two interceptions. Collinsworth, a University of Cincinnati commit, will once again pave the way for Fike and protect Bond's blindside.
"Those guys are expected to be leaders on our football team," said Meiners. "We expect them to have even better seasons than they had last year and set the pace for our younger guys. Our team has played in a lot of big games and are hungry to play in more. We will lean on Fike to run the ball and play the EC style of play that we are known for. Collinsworth will be expected to lead the o-line group and create holes for Fike and other running backs. Bond returns after having a great first season at the helm. He is very accurate and we look to highlight what he does well."
East Central's roster also includes one of the top kickers in the state. Sophie Browndyke accounted for 70 points as a sophomore, going 55-59 on extra point attempts and 5-8 on field goal attempts.
At wide receiver, East Central will be breaking in an all new core. Mac Studer, David Badescu and Trevor Becker, the team's top three pass catchers from a season ago, all graduated. Derek Richter and Nate Buesing are penciled in as starters for week one. The Trojans also return starting tight end Casey McQueen.
Defensively, East Central was among the best in the state last season, holding teams to 9.4 points per game (including postseason). They will return two of their top three tacklers from a season ago in senior middle linebacker Kole Viel (72 tackles) and SAM linebacker Nathan Griffin (47 tackles). Hunter Sohns also returns as a starter at linebacker.
"Viel and Griffin have been guys we have leaned on defensively in the past," said Meiners. "We look for those guys to build on what they have done in the past and lead some of the younger defensive players."
There will be several new names on the Trojans defense this season after graduating stars like Devon Donawerth, Kyle Krummen, Chase Ludwig, Gage Ertel, and Andrew Struewing, among others.
Coach Meiners tells Eagle Country 99.3 that Sam Ringer, Cooper Hoog, Zach Brown and A.J. Messmore will be relied upon to step up in the secondary. Carson Davis will see time at linebacker, while Parker Becknell, Jackson Ibold, Luke Doll, A.J. Tillman and Sam Kirchgassner will battle for playing time on the defensive line.
"All of these players have the talent to be great varsity football players," said Meiners. "It is just a matter of them going out and proving it on the field."
East Central will once again boast a tough schedule, which is built to prepare the Trojans for a deep playoff run.
"Every year, it seems like our schedule gets tougher," said Meiners. "Starting with a fantastic Lawrenceburg team, it will be a grind week in and week out. The advantage of playing the schedule that we do is that our guys are used to playing in big games come playoff time. It is nice to know that our team has faced challenges and dealt with adversity. We can lean on those experiences to make adjustments and play our best football in the playoffs."
The Trojans are scheduled to host the Lawrenceburg Tigers on Friday, August 21. East Central's next two games would be against Cincinnati Oak Hills and Harrison. Those games could be subject to change based on a proposal from the OHSAA to play a shortened six-game season. Under the proposal, Ohio teams will be allowed to keep their first six previously scheduled games, if they choose to do so. However, schedule changes could be made based upon each team's conferences deciding to move conference games up.
Eagle Country 99.3 learned Wednesday that the annual East Central vs. Harrison game will not take place due to new OHSAA scheduling requirements.
Changes will be forthcoming to the East Central schedule.
"Personally, I can't wait to get to that first game against Lawrenceburg," said Meiners. "It has been such a long and trying offseason that our team will enjoy just getting the season started. Lawrenceburg will be very good this year, and I fully expect them to compete for the 3A state championship. We will have our hands full in the first game, but just the opportunity to play a local rivalry game one will be awesome for our players and community. The IHSAA, Dr. Jackson, and our EC administrative team have done an outstanding job giving our players an opportunity to play this season. Hopefully, we are able to get our season in and achieve our goals as a group."
EAST CENTRAL 2020 SCHEDULE
Friday, August 21 - vs. Lawrenceburg - 7:30 p.m. (Eagle Country 99.3 Feature Game)
Friday, August 28 - at Indianapolis Chatard - 7:00 p.m.
Friday, September 4 - vs. Moeller - 7:30 p.m.
Friday, September 11 - vs. Franklin County - 7:30 p.m.
Friday, September 18 - vs. Batesville - 7:30 p.m.
Friday, September 25 - at South Dearborn - 7:00 p.m. (Eagle Country 99.3 Feature Game)
Friday, October 2 - at Connersville - 7:00 p.m.
Friday, October 9 - at Greensburg - 7:00 p.m.
Friday, October 16 - vs. Indianapolis Roncalli - 7:30 p.m.
*Schedule subject to change