Four outstanding seniors could carry the Conner girls basketball team to a state championship.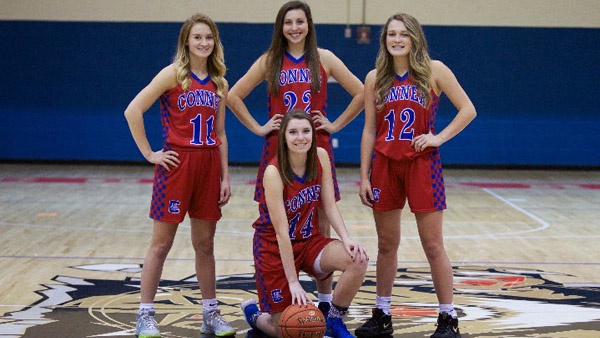 The Conner High School girls basketball team is led by four seniors: Courtney Hurst, Savannah Jordan, Joy Strange, and Maddie Burcham. Photo provided by Conner HS Athletics.
(Hebron, Ky.) – Is the Conner High School's girls basketball team the best in Kentucky?
Those in the know think so. In the latest Kentucky Associated Press poll, the Lady Cougars are ranked #1 for the fourth consecutive week.
"I have to sit back and enjoy the run that these girls have put us on," ninth-year Conner head coach Aaron Stamm said on Eagle Country 99.3 Tuesday morning.
He credits senior leadership for the team's success. Specifically, Conner is led by "complete player" Courtney Hurst, Savannah Jordan, Joy Strange, and Maddie Burcham.
"We have four who have been playing varsity basketball since the 8th grade. We have had three of them score 1,000 points and the other one is the best defender I've ever coached," Stamm said.
Hurst, Jordan, and Burcham are the players who've reached the the 1,000-point plateau in their careers.
Great Day for our program! Congratulations to @HurstCourtney @maddiezane25 and @savjor_ for making the NKY Coaches Division 1 All Star Team and @jcstrange for being selected as Miss Hustle Award winner for Division 1. @_Lady_Cougars_ pic.twitter.com/IwxAhR7aVE

— Aaron Stamm (@Astamm15) February 17, 2019
Stamm has received recognition for his work as head coach. He was named the 9th Regional Coach of the Year earlier this month.
Conner completed the regular season February 13 with a 56-52 win over Covington Holy Cross. With a record of 28-1, the Cougars are about to enter the postseason with a District 33 tournament opening game against in-county rival Cooper on Wednesday, February 20.
Perhaps laying in wait on the opposite side of the bracket is 4th-ranked Ryle (24-5), who opens the tournament against Boone County on Wednesday. Ryle handed the Cougars their only loss of the season back on December 7, but Conner got the best of them in a rematch on February 8.
Conner has not won a 9th Region title in girls basketball since 2008, but this could be the year to change that.
Listen to Eagle Country 99.3's Bubba Bo interview Conner High School girls basketball coach Aaron Stamm in the audio player below.