Races all day, food trucks, beer garden, live music and more!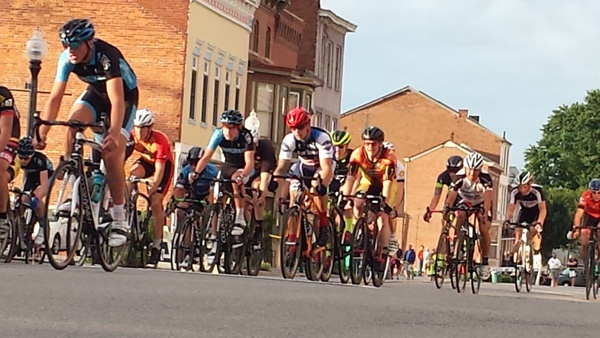 (Lawrenceburg, Ind.) – Some of the top cyclists in the region are expected to roll into the Whiskey City this weekend.
The United Community Bank Whiskey City Twilight Challenge returns to downtown Lawrenceburg on Saturday, July 21.
This year, the annual bicycle races have moved from Friday night to Saturday, allowing for more races and activities.
"We expect the turnout to roughly increase by about 30 percent," said Rick Hoeting, event organizer. "Going in on Saturday, obviously people don't have to tend with work schedules and kids schedules and things like that. It should free up the racers schedules quite a bit. We're hoping to bring in about 500 racers."
The first race is scheduled to begin at 1:00 p.m. with the final race expected to go off around 9:30 p.m. Throughout the day, spectators will see various men's and women's age groups zip through downtown Lawrenceburg, in addition to the kids and celebrity races.
The bicycle course will be the same as past years, but riders will reverse the direction of the course. Each race will begin on High Street at Walnut. The riders will turn left onto Short Street and continue to Center Street before turning left onto Mary Street and left onto High Street.
This year's event will also include multiple food trucks, beer garden, and live music from the Channel Kats, Borderline Something and Indiana Mud Bugs. Kids activities are planned as well, including mini golf, a dunk tank and other interactive games.
Road closures will be necessary for the Whiskey City Challenge.
The course will be closed after 6:00 a.m. on July 21. All alleys that exit onto the course will also be closed. All vehicles parked on the course will need to be moved by 10:00 a.m.
Anyone who needs to drive to a residence or business inside the course will be able to cross Mary Street using William Street. Officers will be posted at the corner of William and Mary streets to assist traffic.
Spectators are recommended to use on-street parking outside of the course or use the free parking garage at the end of Short Street.
For more information, visit www.whiskeycity.org.
HEAR BUBBA BO'S INTERVIEW WITH WHISKEY CITY CHALLENGE ORGANIZER RICK HOETING IN THE AUDIO PLAYER BELOW.