The incident happened Saturday night at the Riverside Inn.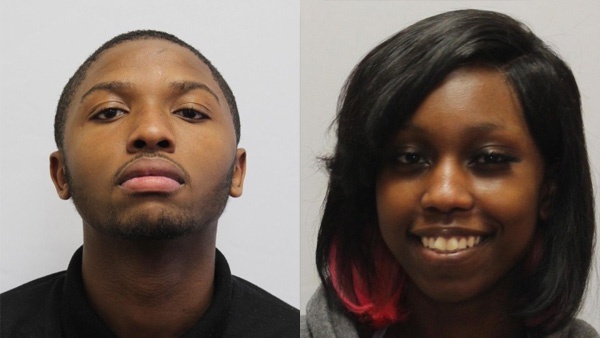 Demontre Conley and Talisha Tompkins. Photos provided.
(Greendale, Ind.) – Arrest warrants have been issued for two suspects in a shooting death in Greendale.
Demontre Conley, 19, and Talisha Tompkins, 21, of Cincinnati, have been charged in the shooting death of 19-year-old David Bush-Reynolds.
Bush-Reynolds was killed on Saturday during an incident at the Riverside Inn in Greendale.
Greendale Police responded to the hotel around 8:44 p.m. after Dearborn County Dispatch received a call of gunshots fired at the hotel.
Police spoke with patrons and staff and no one reported hearing any gunshots. Around 10:16 p.m., police received a call from an officer with Cincinnati Police stating they had a citizen wanting to report that a person had been shot at the Riverside Inn in a room registered under the name of Talisha Tompkins.
Greendale Police went to the room and found the door ajar and located Bush-Reynolds dead from an apparent gunshot wound to the head.
A witness told police that Tompkins, Demontre Conley and Bush-Reynolds were partying and had a video of them smoking marijuana and handling firearms prior to the gunshot that killed Bush-Reynolds.
After the shot went off, they fled, and Conley allegedly told the witness that the shooting was an accident and he did not know the gun was loaded.
On Tuesday, Dearborn-Ohio County Prosecutor Lynn Deddens announced that Conley is charged with Reckless Homicide and Obstruction of Justice while Tompkins faces charges of Assisting a Criminal and Obstruction of Justice.
The investigation continues and warrants are active for their arrests.