The founder of SupplyKick says he will run for the Democratic nomination for governor in 2020.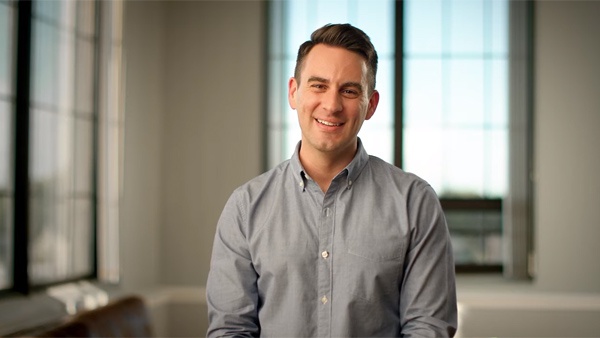 Josh Owens has announced he will run for the 2020 Democratic nomination for Indiana governor. Image via Josh Owens for Governor/Youtube.
(Indianapolis, Ind.) - Tech businessman Josh Owens is jumping into Indiana's 2020 gubernatorial race, becoming the first openly gay candidate for Indiana's executive branch office.
Owens announced Monday he will seek the Democratic nomination in next May's primary election.
The 34-year-old is the CEO of Indianapolis-based SupplyKick, an online retailer and Inc. 500 company.
"I'm running for governor now because I believe in an Indiana where teachers are paid what they deserve and where all are welcomed, respected and protected," Owens said in a statement announcing his candidacy.
"We need a leader who will ensure our state budget, policies and laws reflect a bold and inclusive vision for collective Hoosier success."
According to his campaign website, Owens pledges to increase public school teacher pay, eliminate textbook fees for public schools, defend Hoosiers from discrimination and deliver higher wages. His platform includes decriminalizing marijuana, increasing the state's smoking age, strengthen firearms background checks, and foster climate change innovation.
"I'm passionate about making Indiana the best state it can be and giving every single Hoosier the economic, education, and community support they deserve," he said.
Only one other Democrat has announced a run in the party primary in 2020 in hopes of unseating Republican incumbent Governor Eric Holcomb the following November. Former Indiana State Health Commissioner Woody Myers announced his candidacy in July.
In a statement, Indiana Democratic Party chairman John Zody welcomed Owens to the race while also taking aim at Holcomb.
"Josh Owens is a new voice as the process to select the Party's nominee for governor continues to play out. Hoosier Democrats look forward to learning more about Owens' campaign and plans for our state. We know Eric Holcomb is a do-nothing governor who has failed to raise teacher pay, lower the cost of health care or clean up state government," said Zody.
RELATED STORIES:
Macer Won't Run For Democratic Nomination For Governor
Holcomb Announces Re-Election Bid; Has $6M Head Start
First Candidate Officially Enters 2020 Race For Indiana Governor
Is Indiana Gov. Eric Holcomb Planning To Launch His Re-Election Campaign At Hoosier Gym?