Democrat Woody Myers says his campaign will focus on education, health care and job creation.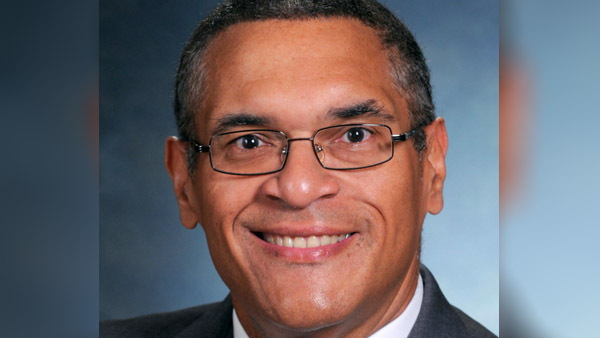 Former Indiana state health commissioner Woody Myers has announced he is running for the Democratic nomination for governor in 2020.
(Indianapolis, Ind.) - Indiana Republican Governor Eric Holcomb has another potential challenger for his re-election bid in 2020.
Health care business executive Dr. Woody Myers announced his campaign for the Democratic nomination for governor Wednesday.
"I'm running for governor because Indiana has too many pre-existing conditions that typical politicians just can't treat. And treating tough problems is what I do," Myers said at his announcement.
While others have announced the formation of exploratory committees, Myers is the first candidate to formally enter the 2020 Indiana gubernatorial race. State Senator Eddie Melton (D-Gary) and State Representative Karlee Macer (D-Indianapolis) are considering runs for the governor's office.
Like Melton, if elected, Myers would be the first person of color from a major political party to run for Indiana governor.
Myers, and Indianapolis native, was the Indiana state health commissioner in the 1980s. He went on to become the New York City health commissioner, medical director for Indiana Blue Cross Blue Shield, and director of health care management for Ford Motor Company. He was defeated in a run for Indiana's 7th congressional district in 2008.
He said he plans to focus his campaign on boosting education funding, improving the state's health care system, and job creation.
"We'll stop cutting education and start paying our teachers what they deserve," he said.
Former southeastern Indiana U.S. Congressman Baron Hill is Myers' campaign chairman. He introduced the candidate.
"His experiences as a health care leader, businessman, husband, father and grandfather have all played a part in making him the thoughtful, creative and hard-working man I admire – and a fresh voice that Indiana needs," said Hill.
Meanwhile, Governor Holcomb is expected to formally announce his re-election bid on Saturday at Hoosier Gym in Knightstown.
RELATED STORIES:
Is Indiana Gov. Eric Holcomb Planning To Launch His Re-Election Campaign At Hoosier Gym?