Areas of Milan and Sunman will be affected.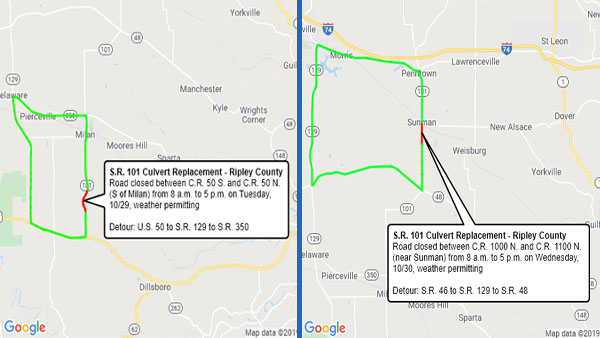 (Ripley Co., Ind.) - INDOT announced that sections of S.R. 101 will be closed for culvert replacements next Tuesday and Wednesday.
On Tuesday, October 29, S.R. 101 will be closed between C.R. 50 S. and C.R. 50 N., just south of Milan.
On Wednesday, October 30, between C.R. 1-thousand N. and C.R. 1100 N. near Sunman.
The work is scheduled for 8 AM - 5 PM each day, weather permitting.
Access to homes within the closures will still be available during the road work.
Detour routes are listed below.
Tuesday, October 29 (S.R. 101 closed between C.R. 50 S. and C.R. 50 N.): U.S. 50 to S.R. 129 to S.R. 350
Wednesday, October 30 (S.R. 101 closed between C.R. 1000 N. and C.R. 1100 N.): S.R. 46 to S.R. 129 to S.R. 48