The suspect's outfit connected him directly to a recent home burglary near Aurora.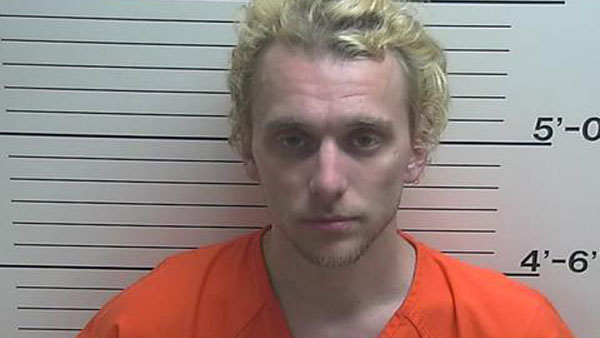 Tyler C. Woolpert. Photo by Dearborn County Sheriff's Office.
(Dearborn County, Ind.) – A man who is no stranger to local law enforcement for entering places he doesn't belong is back in jail.
Tyler Christian Woolpert, 28, is accused of burglarizing a home in southern Dearborn County. He was charged May 10 with Burglary (level 4 felony).
A woman returned to her residence on Hueseman Road on May 8 to find a cooler was out of place, according to a probable cause affidavit. She then discovered items in her bedroom had been bagged up and were left lying on the floor.
Dearborn County Sheriff's investigators came to the scene and began collecting evidence. A crime scene investigator identified an unlatched window with the screen removed as the intruder's point of entry.
A shirt not belonging to the residents was found in the basement. A long gun which was removed from the residence was found laying on the home's deck.
The CSI identified a shoeprint at the home. It was determined to be left by a Vans brand shoe.
At around 2:00 a.m. the following morning, a suspicious male was reported nearby. Police apprehended a man identified as Woolpert. The investigator noticed that Woolpert was wearing Vans brand shoes.
Woolpert was also allegedly wearing a unique shirt identified as one which had been stolen from the residence the prior day.
As investigators in Woolpert's presence discussed that the shirt, shoes, and pants were stolen, Woolpert allegedly stated "The pants are not stolen."
A judge has ordered that Woolpert remain held in jail on a bond of $75,000 surety and $1,500 cash. He remains behind bars as of Thursday.
Woolpert was sent to prison for four years in 2015 for breaking into a Lawrenceburg convenience store in 2014, then trying to redeem lottery scratch-offs which he had taken during the burglary.
He was arrested in 2012 after being accused of stealing a Greendale city councilman's wedding ring. Another 2012 arrest saw him charged for abusing a 23-month-old child.
RELATED STORIES:
Four Years For Thief Who Tried To Redeem Stolen Lotto Tickets
Partners In Crime Caught Trying To Redeem Stolen Lottery Tickets
Alleged Thief Takes Ring, More From Councilman