The Lawrenceburg Safe Haven Baby Box is the 43rd nationwide.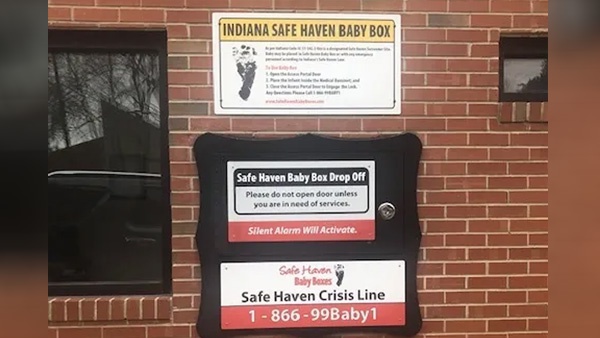 (Lawrenceburg, Ind.) – A Safe Haven Baby Box has been installed in Lawrenceburg.
Local community members will find the Safe Haven Baby Box at the Lawrenceburg Fire Department at 300 W. Tate Street.
The box will be made available to the public starting on Friday, September 24 after the community unveiling at 1:00 p.m.
It will be the 43rd Safe Haven Baby Box nationwide.
The boxes have become more prevalent since December of 2014 when a baby by the name of Amelia was abandoned at Eagle Creek Park in Indianapolis. She was the last deceased infant found from illegal abandonment in Indiana.
Since then, eight babies have been surrendered inside Safe Haven Baby Boxes. Four have been surrendered in 2020.
Indiana's 2000 Safe Haven Law allows people to anonymously surrender their healthy newborn 30 days old or younger without fear of criminal prosecution at any fire station. The boxes are equipped with alarm systems to immediately notify staff inside the station. Safe Haven Baby Boxes also have heating and cooling features and the outside door locks as soon as the baby is placed inside.
The boxes cost roughly $15,000 with installation.
Safe Haven Baby Box Inc. is a non-profit founded by firefighter and medic Monica Kelsey. She was abandoned as an infant and is committed to installing more boxes across America.
"We have made great progress over the last 4 1/2 years with raising Safe Haven law awareness, educating students and communities, providing emergency personnel training, installing Safe Haven Baby Boxes, and saving lives. The overwhelming support of the Lawrenceburg community for the Safe Haven Baby Boxes program reinforces our proactive efforts to end infant abandonment." says Monica Kelsey.
Local community members are invited to attend the Safe Haven Baby Box unveiling and community blessing at the Lawrenceburg Fire Department on Thursday at 1:00 p.m.
Speakers will include Monica Kelsey, Mayor Kelly Mollaun, Fire Chief Johnnie Tremain, Lawrenceburg Emergency Rescue Unit Director Rick Clark and Linda Znachko.
"On behalf of the City of Lawrenceburg and our safety officials, we are excited to provide a safe and totally anonymous baby surrender option with the Safe Haven Baby Box. An opportunity to save one life makes this initiative completely worth it," says Mayor Mollaun.
For more information, visit https://shbb.org/.