Congratulations to the five Ripley County recipients!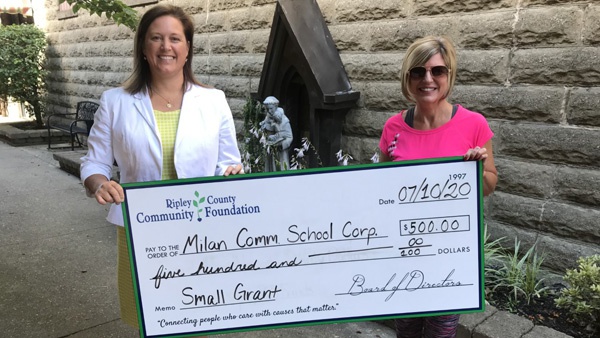 Photo provided by RIpley County Community Foundation.
(Ripley Co., Ind.) - The Ripley County Community Foundation (RCCF) has announced the recipients of the June cycle small grants.
A total of $2,500 was distributed to local organizations throughout Ripley County. Each grant recipient received $500. Recipients include:
Milan Community Schools
Milan C.A.R.E.S.

Creation of the new Youth Center

St. Louis Preschool

Support their Engineer STEM Project

The Town of Osgood

Acoustic leak detector to assist the Town in locating water leaks

Southeastern Indiana YMCA

Lamination machine to continue taking hygienic precautions for members
"Through this small grant cycle, we were impressed with the innovative mindset that these organizations brought to the table. We are proud it will have an impact in community service, education, and health programs. With these small grants less is more, and we look forward to seeing these projects come to fruition," states Executive Director, Amy Streator.
The Community Granting Funds allows the RCCF to support worthy causes with small grants.
"We extend our appreciation to the Bonfer Family Fund, Bruns-Gutzwiller Inc. Fund, the Chandler Family Fund, the City of Batesville Fund, the Collier Family Fund, the Dunbar Family Fund, ETC Fund, FCN Bank Fund, the Hartman Family Fund, Hill-Rom Holdings Inc. Fund, the John A. Hillenbrand Foundation Inc. Fund, the Kellerman Family Fund, and the Kneuven Family Fund for providing for our 2020 small grants," says the RCCF.
Create your own Community Granting Fund or donate to an existing fund by contact the Ripley County Community Foundation by calling (812) 933-1098 or visiting www.rccfonline.org.