Chad Pindell is accused of engaging in sex acts with a teen girl on the basketball team he coached.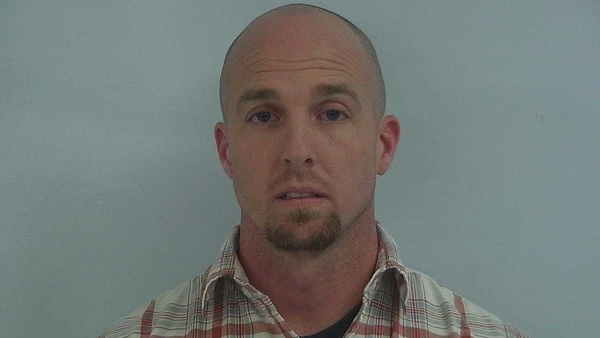 Chad Pindell. Photo by Ripley County Sheriff's Office.
(Ripley County, Ind.) – A Ripley County Councilman facing accusations of sex with an underaged girl has resigned his post and won't seek re-election this year.
Chad Pindell, 35, was charged in March with Child Seduction (level 5 felony) and Providing Obscene Matter and Performances Before Minors (level 6 felony). According to Indiana State Police investigators, Pindell allegedly engaged in sex acts with a 17-year-old player on the Jac-Cen-Del High School girls basketball team, for which he was an assistant coach.
Pindell, of Napoleon, has resigned from Ripley County Council, says Ripley County Clerk of Courts and local GOP chairwoman Ginger Bradford. A notice was filed on June 6.
Pindell had also filed to run for re-election to county council in 2018 prior to being criminally charged. He continued his candidacy in an uncontested Republican primary race for the council seat in May.
Bradford says that Pindell also gave up his re-election bid shortly after the May primary election.
Stephen Gloyd, of Osgood, has been appointed by Bradford to replace Pindell on the November general election ballot. Gloyd has not held a political office before, Bradford said.
The Republican party will hold a caucus to determine a replacement for Pindell as the current District 3 county council seat holder for the remainder of Pindell's term, which continues through the end of this year. A date for the caucus has not been set, Bradford said.
Interested individuals must be a resident of County Council District 3, which includes Otter Creek Township 1 and 2, Center Township 1, 2 and 3, Jackson Township, and Delaware Township. They should file a Declaration of Candidacy form and financial statement form with the Ripley County Clerk of Courts no less than 72 hours prior to the caucus. Candidates should also provide Bradford, the GOP chair, with a copy.
Pindell's criminal case is scheduled for trial on August 14, 2018. His attorney, Jud McMillin of Brookville, has filed for a change of venue.
RELATED STORIES:
State Police: Ripley County Councilman, High School Coach Had Relations With Player