Lawrenceburg Police encountered the suspect when they responded to a suspicious activity complaint.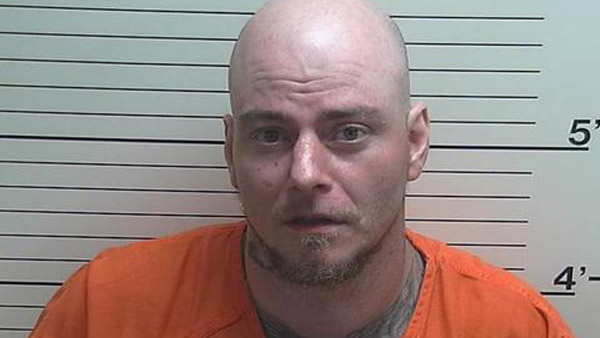 Robert Judd. Photo by Dearborn County Sheriff's Department.
(Aurora, Ind.) – An accused drug dealer is facing prison time after Lawrenceburg Police found text messages setting up methamphetamine sales on his phone.
Robert Judd, Jr., 33, of Aurora, was charged June 29 with Dealing in Methamphetamine (level 4 felony), Possession of Methamphetamine (level 6 felony), and Possession of a Syringe (level 6 felony).
Lawrenceburg Police began to investigate Judd last May after receiving a tip that two suspicious individuals were seen attempting to get into a vacant house on Mary Street. The male had tattoos "all over him" and the female was carrying an orange duffle bag, according to a probable cause affidavit filed in court.
Officers responded to the scene and encountered Judd in a car. A syringe was allegedly observed in plain view in the vehicle.
During a search, police found in Judd's pocket three separate bags containing a substance believed to be crystal meth.
Judd was taken to the Lawrenceburg Police Department for questioning. He gave officers consent to search his phone. A review of the phone led to the discovery of text messages in which Judd discussed with others money, meeting places, and times.
The investigation and phone were then turned over to the Dearborn County Special Crimes Unit. They found messages "consistent with illegal drug activity" and indicating Judd was both a supplier and seller of drugs and paraphernalia.
Judd is held in jail on a bond of $100,000 surety and $1,000 cash. His trial is scheduled for September 4.
Another Lawrenceburg Police officer had remained at the scene after Judd was taken to the police department. That's when, police say, the woman believed to be carrying the duffle bag returned.
Police questioned Samantha P. Duffy and searched a bag in her possession, allegedly finding a loaded syringe. She told officers Judd supplied her methamphetamine.
Duffy, 22, of Lawrenceburg, is charged with Possession of Methamphetamine (level 6 felony), Possession of a Syringe (level 6 felony), and False Informing (class B misdemeanor).