Two days down, two to go.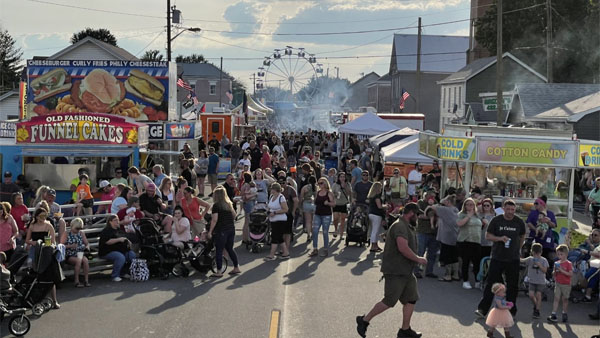 Photo by Eagle Country 99.3.
(Dillsboro, Ind.) – The 2021 Dillsboro Homecoming Festival has already been a memorable one.
Festivities kicked off on Wednesday evening, which was all about honor.
The evening began with the presentation of Colors by the Guard of the Northcutt-Laaker Post 292 American Legion, followed by the parade of royalty.
This year's Prince and Princess is Cayden Brady and Kylie Goodwin. The King and Queen went to Allen Conn and Lily Pruss.
Senior royalty was awarded to Judy and Gary Baxter.
Wednesday's festivities also included awards for Outstanding Citizen, Police Officer of the Year, and Dillsboro EMS Responder of the Year. The winners were David "Woody" Fryman, Kevin Turner and Bev Heather Tackitt.
Jared Teaney was also recognized this week as the Firefighter of the Year. Teaney has served as a volunteer fire fighter since 1999.
The Dillsboro Homecoming Festival rolls on Friday and Saturday.
Tonight's events include the Frog Jumping and Best Dressed Contests. Registration will begin at 5:00 p.m. with the contest starting at 6:15.
Sounds of Summer, a Beach Boys Tribute, will hit the state at 8:30, and fireworks will begin at dusk.
Saturday will feature the 5K Run & Walk, Homecoming Parade, Pedal Tractor Pull, and live music.
For more information, visit Dillsboro Homecoming Festival | Facebook.