The competition was held on December 13.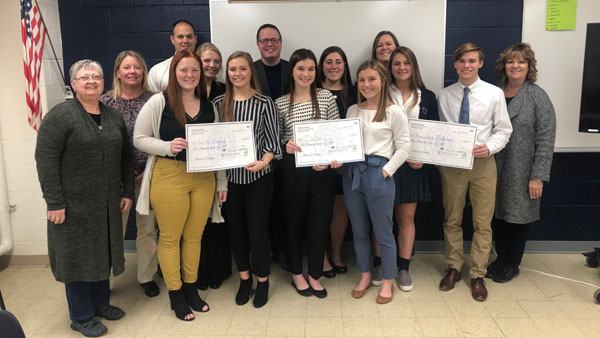 (Maverick Winners: (First row – left to right): Cheryll Obendorff (sponsor), Phoebe Kroen, Claire Horan, Alexa Miles, Kathryn Wilder. (Second row – left to right): Missy Cooper (judge); Faith Sullivan, GiGi Dreyer, Allison Storms, Ben Kraus. (Third row – left to right): Kevin Campbell (judge), Jonathon Maple (Assistant Prinicpal), Tricia Miller (judge and sponsor), and Shelly Lunsford(Sponsor))
(Oldenburg, Ind.) - The Maverick Challenge, a business planning competition was hosted at Oldenburg Academy on December 13, 2019. Community judges adjudicated the 19 students based on the business plans and products they created for the competition. Oldenburg Academy had nine teams compete and was the only school competing this year in both Franklin and Ripley County.
The Maverick Challenge was started in 2008 by the Columbus Indiana Chamber of Commerce and has been a growing program since. The competition is intended to simulate the real-world process of entrepreneurs soliciting start-up funds from early-stage investors, successful entrepreneurs and community leaders. Oldenburg Academy Assistant Principal Jonathon Maple is the head of the Franklin/Ripley County competition and leads the challenge at the school, "OA is thrilled to participate in the Maverick Challenge – this is a real-world learning experience that provides students with many skills beyond the business plan." Students had the opportunity to work with business and community mentors as well as experience feedback from professional judges.
The winners were announced, and they received cash prizes. Third place winner, which received $100 – Babysitting Brokerage, a babysitting app which was created by Allison Storms and Ben Kraus; this application would allow babysitters and parents to connect – this was focused on the southeastern Indiana market. Second place, $200, went to Claire Horan, Phoebe Kroen and Faith Sullivan, who created the company Just the Essentials – an essential based oil sock company. The first-place winner received $500 and went to a company that could save lives in the future – a retractable oxygen cord company which was called O2Go. This was presented by GiGi Dreyer, Alexa Miles and Kathryn Wilder.
"This was another great year – it is amazing to see all of the clever ideas and the thought and passion that students put in to creating their businesses." Maple commented. "We are seeing the growing need of entrepreneurship in the local area – it is our hope that this will spark a passion with students locally." The top team will move on to the Spring Maverick Challenge Regional Competition, where nine counties will compete against each other, hosted by Columbus Area Chamber of Commerce. They then have a chance to move on to the state competition at Ball State University, called Innovate WithIN.
Genesis Pathways To Success out of Ripley County, Franklin County Community Foundation, Oldenburg Academy and the Batesville Area Chamber of Commerce all sponsor the challenge. "We truly cannot have this without their support and assistance, we are so grateful to live and work in such a supportive community," Maple commented. Anyone interested in participating in the Maverick Challenge can contact Maple at jmaple@oldenburgacademy.org.