Firefighters were on the scene within two minutes of receiving the call.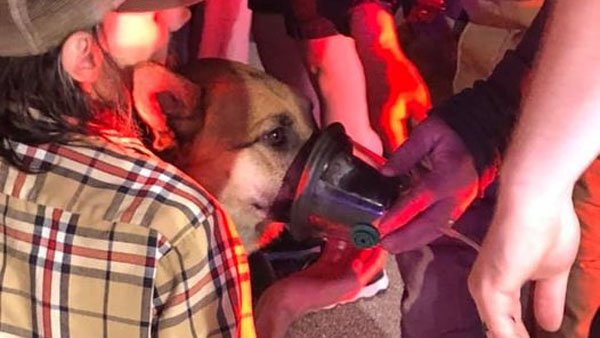 Photo by Cindy Lee.
(Greendale, Ind.) - A quick response from area firefighters saved the lives of multiple four-legged friends on Monday night.
Greendale Fire Department was dispatched to a home on the 900 block of Miller Avenue around 8:23 p.m. Crews were on the scene by 8:25 and found heavy smoke coming from both stories and heavy fire along the rear of the home.
Fire Chief Shannon Craig tells Eagle Country 99.3 that the occupants of the home had walked to Oakey Park prior to the fire starting, but five pets remained in the house.
Three of the pets were located at the initial response. The two others were found during what is called a secondary search. Craig says a German Shepard was found unconscious but breathing, and was treated at the scene with a special oxygen mask. A cat was also found during the second sweep with singed hair.
All five pets were taken to a nearby veterinary clinic to be checked out.
Chief Craig says the fire is believed to have started in the kitchen. He added that home suffered significant fire and smoke damage, and minor water damage.
The fire remains under investigation.
Lawrenceburg Fire, Lawrenceburg EMS, Aurora Fire and Greendale Police assisted at the scene.