Fire departments will be informed of new structures with advanced components built in their jurisdictions.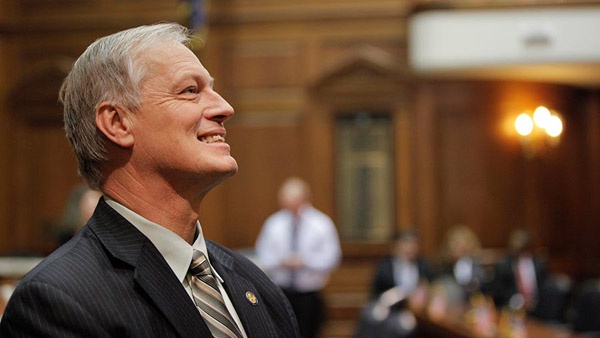 State Rep. Randy Frye. File photo.
(Indianapolis, Ind.) - Gov. Eric Holcomb on Thursday ceremonially signed into law legislation co-sponsored by State Rep. Randy Frye (R-Greensburg) supporting firefighter safety.
The bill signing took place at the 42nd Annual Indiana Professional Firefighters Union Convention in Carmel.
Frye, a former firefighter, said the new law creates a reporting system to inform fire departments of any new structures in their jurisdiction built with advanced structural components. According to Frye, this information is important to firefighters because these materials, though more cost-efficient, environmentally friendly and structurally sound, can burn at a faster rate.
"This new reporting system will provide firefighters and first responders the information they need to perform their duties safely," Frye said. "They can more efficiently evaluate dangerous situations before they are on the scene."
Building commissioners will be required to notify local fire departments as well as 911 call centers of any structures using advanced structural components no more than 90 days after issuing a building permit. These call centers will have to maintain and relay this information in the event of an emergency run to that address.
The law also requires the Indiana Fire Prevention and Building Safety Commission to update Indiana's residential building code by Jan. 1, 2020.
"Updating the state fire codes dealing with fire safety, insulation and building materials for new construction and major renovation projects, will result in safety for all Hoosiers and first responders," Frye said.
This new law goes into effect July 1.