Residential customers of Lawrenceburg Municipal Utilities are looking at possible increases for water and sewer service in 2019.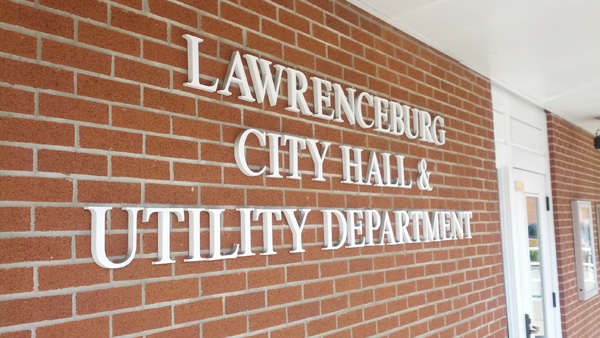 (Lawrenceburg, Ind.) – Lawrenceburg Municipal Utilities customers will get their opportunity to sound off on proposed rate increases Monday, December 17.
Lawrenceburg Common Council voted to approve the water, sewer, and electric rate ordinances on a 3-2 vote on November 19, allowing the proposed increases to be published to the public.
At the heart of the potential increases is the matter of getting LMU the revenue it needs to become self-sufficient. Currently, the utility department relies on subsidies from the City of Lawrenceburg to cover costs, including LMU employee wages and benefits.
The proposed rate increase for water for LMU customers would be 15-percent. It would equate to about $4.89 more per month for a typical household using 5,000 gallons.
The proposed sewer service increase has not been determined yet, as council has been presented options to increase the rate from Crowe Consulting. The first option, according to the consultant, would raise sewer rates by 22-percent increase adding $5.62 to the monthly sewer bill for a customer using 5,000 gallons of water. The second option would be larger – 69-percent resulting in a $17.64 monthly sewer increase for 5,000 gallons of water usage.
"Even with the largest of the rate increases, you're still going to be around the middle of the pack from a sewer perspective. It just gives you good context that your sewer rates are very low as they stand," Dave McGimpsey, an attorney with law firm Bingham Greenebaum Doll LLP, told the Utility Service Board on December 7.
LMU is considering a sewer rate increase due to new rates at South Dearborn Regional Sewer District, the facility handling sewage from Lawrenceburg, Aurora and Greendale. SDRSD will soon be instituting a demand fee, charging each city for its share of usage instead of diving costs equally.
Without at least the 22-percent sewer rate increase to raise $440,000 in new revenue, LMU would face a deficit in 2019. The 22-percent increase, however, would not cover bond debt. The debt would instead be covered by the city's Municipal Development Fund.
The 69-percent sewer rate increase option would address the 2019 deficit and the bond debt without having to rely on MDF funds.
Only one customer in the entire city would be affected by a change in the LMU electric rate ordinance. The rate would increase would only apply to customers in the retail power plant service class. The only LMU customer in that class is Lightstone Generation, owner of the former AEP gas power plant along on U.S. 50.
Electric rates would not increase for residential or commercial customers.
The utility rate change public hearing will be held Monday at Lawrenceburg City Hall during the city meetings starting at 6:00 p.m.
RELATED STORIES: