Water and sewer rates for all LMU customers could be hiked.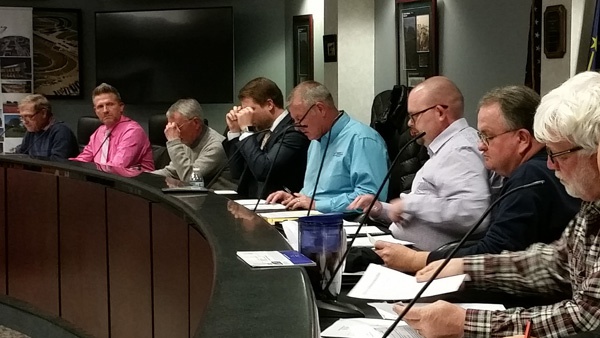 Lawrenceburg Common Council. File photo.
(Lawrenceburg, Ind.) – Customers of Lawrenceburg Municipal Utilities could end up paying higher rates in 2019.
Lawrenceburg Municipal Utilities director Olin Clawson presented ordinances to raise rates for electric, water and sewage at the Lawrenceburg Common Council meeting on November 19.
Council was split 3-2 on moving forward with advertising each of the potential rate increases. Councilmembers Tony Abbott and Aaron Cook had asked for more time to review the ordinances before the first reading vote.
"We just got 20 something pages that we haven't even looked at to vote on," said Cook.
City Attorney Del Weldon explained that voting that night would not approve the rate changes, but would allow the proposal to advance to a public hearing on Monday, December 17.
According to the discussion, the ordinance pertaining to electric rates would not change electric rates for residential utility service, but electric rates would go up for the retail power plant service class. A representative of rate study firm Catalyst said that would affect only one customer in the city, Lightstone Generation, owner of the former AEP gas power plant in the city.
However, water and sewer rates could increase for all LMU customers.
If passed, the rate changes would take effect in 2019.
Common council does plan to hold a work session to further discuss and learn about the proposed rate increase.