Boggs returns to the place he has spent the most time in education.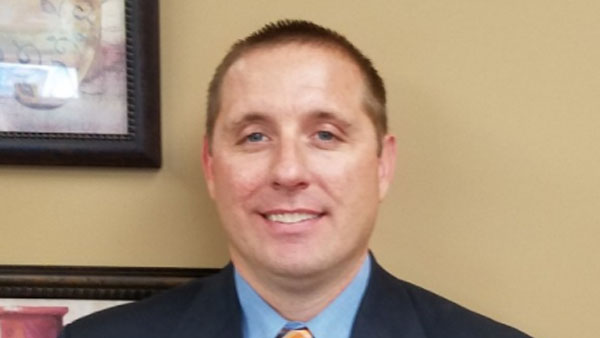 Mark Boggs. Switzerland County School Corporation photo.
(Vevay, Ind.) - Switzerland County High School is out a girls basketball coach, but Switzerland County Middle School has gained a new principal.
Mark Boggs recently stepped down as the high school girls varsity basketball head coach to fill the middle school principal vacancy.
Boggs tells Eagle Country 99.3 that the opportunity presented itself when the middle school's current principal decided to step back into the classroom.
After a couple days of talking it over with his family, Boggs decided the offer was too good to turn down.
"When the opportunity arose that I could come back to this position, I couldn't pass it up, but I've enjoyed everywhere I've been fortunate to either teach or be an administrator at."
Of his 19 years in education, Boggs spent his first 16 years at Switzerland County Middle School. His first six years he worked with kids with special needs before moving on to the math general education room.
More recently, Boggs has served as the Switzerland County High School Athletic Director and Assistant Principal, in addition to coaching the girls basketball team.
Moving forward, Boggs doesn't think his duties as a principal will not allow enough time to focus on coaching.
"Mr. Hite allowed me the opportunity to coach and be an administrator when I was an assistant principal," said Boggs. "From a principal standpoint with meetings after school and a lot of different things that are on your daily agenda, I think it's probably not going to be a good fit to do both."
Boggs added that his four years as the girls varsity basketball coach was "a great opportunity and a blessing all in one."
During that time, he led the Lady Pacers to a 50-45 record, including two-straight winning seasons.
"I feel really good about the progression each year," Boggs said. "I definitely feel like whoever gets this job coming in they are getting a nice product right out of the gate. I'm a Pacer and I want our Pacer athletics to succeed whether I'm coaching or not. I want to leave a program that I was fortunate to coach in a good situation for the next coach."
The Lady Pacers, fresh off an 18-win season, will return four seniors in Maddie Duvall, Jessica Duvall, Nora Hankins and Hannah Hayes. Boggs added that he believes several underclassmen will expand their roles this year to put a really nice product on the floor.