The Dearborn County Chamber of Commerce Dinner was held at Rising Sun Casino on November 14.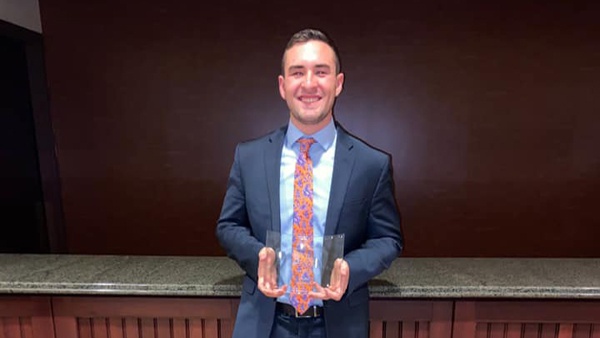 Photo provided by Logan Lawrence.
(Rising Sun, Ind.) - The Dearborn County Chamber of Commerce Dinner allows individuals and businesses to be showcased for their contributions to the Dearborn County community.
Multiple nominees were reviewed by the chamber's board of directors for each of the five awards.
This year's award winners were introduced at the Dearborn County Chamber of Commerce Dinner, presented by Kelsey Chevrolet.
Dearborn County Young Professionals (DCYP) Award: Impact Sports
Mike Cunningham presented this award to Casey Roberts, who owns Impact Sports, Inc. The business that started in his garage has grown to a 5,500 square foot building, employing 7 individuals. Cunningham emphasized the entrepreneurship characteristics that Casey has accumulated throughout his journey as a business owner, which is why Young Professionals nominated him.
Chairperson's Award: Dale Lutz
This Chairperson's Award highlights the contributions made to community by an individual. Mike Templin nominated Dale Lutz for being a family man, an accomplished entrepreneur, and a proud member of Dearborn County who loves to give back to his community. Mike explains Dale's hardworking ethic as it was instilled in him from a young age. Dale is an auctioneer, a realtor, and bus service co-owner. His generosity continues to shine bright by donating to charity events. During Lutz's speech, he reminded the audience how wonderful and generous our community was.
Small Business Award: Hummel Insurance, Inc.
Dan Hummel proudly accepted the Small Business of the Year Award from Patrice Ligon. Hummel Insurance, Inc. is a family business consisting of 3 generations. Hummel Insurance was established in Moores Hill in 1957. Dan joined his father, Bill, in 1986. Brothers Dan and Greg split the business in 1999, when their father retired. Since becoming a business, Hummel Insurance has grown to 8 locations, 5 in Indiana and 3 in Northern Kentucky. With loyal employees and clients, this business is well respected by the community.
Large Business of the Year Award: Robinson & Sons Trucking
Mark Banschbach presented the Robinson Family with the Large Business of the Year Award. In 1983, Brent and Stacy started a business focusing on transportation and distribution. The family has expanded their business from the local area to the Midwest, Southeast and Northeastern United States. They have been extremely successful in building a company that owns their own trucks and warehouse, and employing over 60 individuals.
Lauren Hill Award: Logan Lawrence
Amy Fryman presented the Lauren Hill Award to Logan Lawrence. Logan is a Lawrenceburg native who is currently studying at Purdue University. He was recognized for his passion for community and dedicated work for ALS. Despite his young age, the 20 year old has worked hard to inspire the entire community to do great things. Lawrence created the Cruisin' to a Cure event that is held in downtown Lawrenceburg. This idea came from his efforts to raise money for his Grandfather's illness, which has raised over $65,000 over the past 3 years.