Remaining meets will be on January 21, and February 18.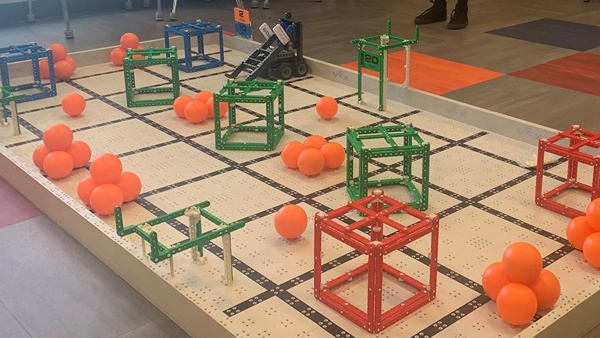 Update published Monday, November 18 at 10:30 a.m.:
The meet scheduled for tomorrow, November 19, has been canceled.
Due to SD being closed for the Red4ED rally in Indianapolis, the staff is trying to reschedule it for February.
Updates will be available when information regarding the new meet date is released.
Original story published Friday, November 1 at 6:00 a.m.:
(Aurora, Ind.) - Southeastern Indiana Elementary and Middle Schools have expanded their extracurricular activities towards STEM.
Last year Milan Community School's Facilitator of Technology, Brandy Hicks, brought together the Southeastern Indiana schools to try to do more for the students and the STEM programs, which led to the start of the Southeast Indiana Blended Robotics League.
In this league, schools create teams of students to compete in four different meets each year. This year meets are held on October 29, November 19, January 21, and February 18.
All meets will be at Aurora Elementary School at 5:15 PM. They are opened to the public and free of cost.
The robotics league is student centered, from members of the team building and resetting the fields to building the competing robots from scratch.
Competing in this league allows students to get more time and repetition at a meet setting.
Schools participating in the Southeast Indiana Blended Robotics League include:
St. Louis School
St. Mary's School
Manchester Elementary School
Moores Hill Elementary School
Aurora Elementary School
Dillsboro Elementary School
South Dearborn Middle School
Milan Elementary/Intermediate/Middle School
Jac-Cen-Del Elementary/Middle School
Batesville Intermediate School
At the first meet on Tuesday, October 29, 26 Robotics Teams from Southeastern Indiana gathered to put their robots to the test.
St. Mary's Legend team came out on top, placing 1st with an average of 19.20 points.
At the end of the season, two teams will receive the Teamwork Champ Award, and one team will receive the Robot Skills Champ Award. Both of these awards will qualify teams to move forward to the state competition.
Eagle Country met with Aurora Elementary School Principal, Mary Bailey, and 5 Star Technology, Cynthia Basham, who explained how important this league is for the young students who do not show interest in extracurricular activities like athletics. When asked how the technology is paid for, Mary Bailey stated it was paid for like any other team, by the school.
Since purchasing technology does get expensive, some teams do receive sponsors from businesses/individuals for team uniforms and tech costs.
To become a sponsor, you can directly contact the school of your choice.
If you are interested in getting more information about the league, you can visit bit.ly/SEIRobotics.