Snow accumulation is expected to be under an inch, but snowfighters are going to work to keep roadways safe.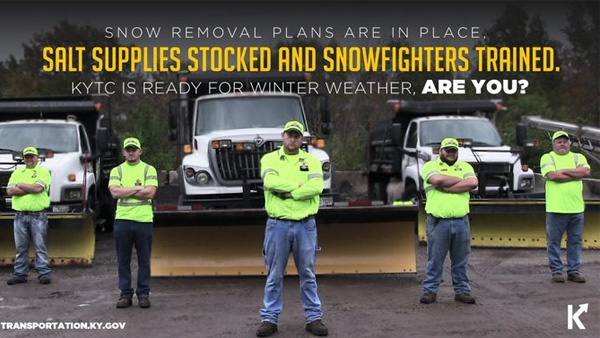 File photo.
(Covington, Ky.) – Snow and ice removal crews are ready to hit the roads in northern Kentucky.
The Kentucky Transportation Cabinet District 6 says snowfighters will report for duty this afternoon at 5:00 p.m. in anticipation of a wintery mix forecasted in the area.
The forecast from the National Weather Service shows light snow this afternoon and into this evening. Accumulations will generally by under an inch.
Several of the District 6 counties have been pre-treating several priority roads. D-6 snowfighters will mobilize ahead of the storm to treat state roads and interstates.
Crews plan to work through the night to get the roads in the best possible condition for the morning commute.
Motorists are reminded that bridges, overpasses, and higher elevated roadways are more prone to freezing during winter storms.
The following measures will help keep motorists safe and prepared:
Put yourself in emergency mode
Pay attention to weather advisories. Weather will impact your commute on some level
Travel only as necessary during major snow events. It's better to be stuck at home than to be stuck on the road
Maintain a safe distance from snowplows and other heavy highway equipment
Do not pass snowplows on the shoulder
Allow time for a slower commute
Winterize vehicles
Supply vehicles with blankets, flashlight and an emergency supply kit
Know before you go. Navigate traffic with GoKY, TRIMARC or via Waze and check traffic conditions before you travel
Eliminate distractions (e.g., operating phone and eating) while driving
Cooperate with the expectations of the Quick Clearance law, which requires drivers to move vehicles to the shoulder in the event of a non-injury crash
For more information, follow KYTC District 6 on their Facebook page at www.facebook.com/KYTC.District6.