The race took place the day after the one year anniversary of injuries sustained in Afghanistan.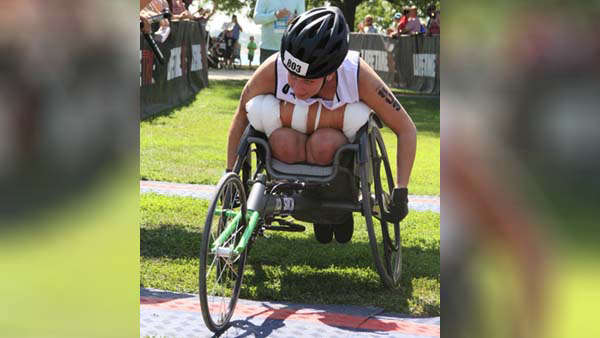 Kelsee Lainhart. Photo by Lifetime Chicago Paratriathlon.
(Chicago, Il.) – Exactly one year and a day after being seriously injured in Kabul, Afghanistan, Kelsee Lainhart showed how resilient she is.
The 21-year-old competed at the Chicago Paratriathlon on Saturday.
Lainhart placed fifth out of seven para-triathletes with a total time of 1:17:58. The event included a swim in Lake Michigan, wheelchair race, and hand cycle portion.
Her total distance traveled was 8.3 miles.
See her full results at https://www.athlinks.com/event/212943/results/Event/1019370/Course/2251432/Bib/803.
Photos from the event may be viewed at https://marathonphotos.live/Event/Sports%2FMPUS%2F2022%2FChicago%20Triathlon%20SuperSprint%20and%20Kids%20Tri/803#free
RELATED STORIES
Kelsee Lainhart Injured One Year Ago Today; Will Participate in Chicago Paratriathlon Sat.
Marine Who Saved Kelsee Lainhart Receives Bronze Star Medal
Cpl. Kelsee Lainhart Recognized On House Floor By Congressman Greg Pence
Injured U.S. Marine Moved Out Of ICU To Wounded Warrior Floor
UPDATE: Kelsee Lainhart Back In The States; Recovering At DC Hospital