Kelsee Lainhart's long road to recovery took a big step this week.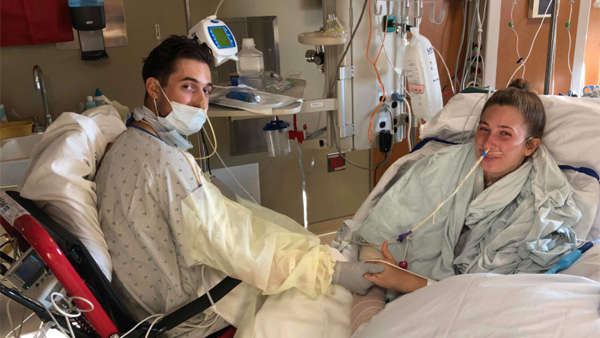 Kelsee Lainhart with Wyatt Wilson (Photo by Stacey Lainhart/Caring Bridge).
(WASHINGTON, DC) - Kelsee Lainhart has moved out of ICU following surgery last week.
The 2019 East Central High School graduate and U.S. Marine underwent spinal surgery last week after being injured in the Kabul Airport terrorist attack on August 26.
Lainhart officially moved out of ICU on Monday and was moved to the Wounded Warrior Floor, according to a journal post at Kelsee | Journal (caringbridge.org).
She is currently hooked up to a feeding tube and has 26 staples in her back from her spinal surgery.
Lainhart was scheduled to undergo a full assessment Tuesday morning.
This week, she had visitors from the Marine Corps, including Kyle Carpenter, the youngest living Medal of Honor recipient.
Over the weekend, Lainhart and her family were able to meet with Cpl. Wyatt Wilson. He was also injured in Kabul and helped retrieve Lainhart and get her to a medivac vehicle for treatment.
Learn more about Lainhart's progress Kelsee | Journal (caringbridge.org).
RELATED STORIES
UPDATE: Kelsee Lainhart Back In The States; Recovering At DC Hospital