Wyatt Wilson is a hero.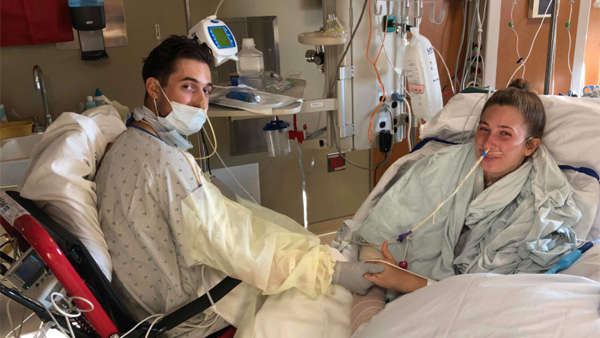 Kelsee Lainhart with Wyat Wilson. Photo by Stacey Lainhart/Caring Bridge.
(Undated) - Kelsee Lainhart and Wyatt Wilson will forever be linked.
Nearly a year ago, Lainhart was seriously injured during a terrorist attack in Kabul, Afghanistan that killed 13 U.S. military members and wounded several others.
Wilson, a fellow Marine, was also injured in the attack but helped retrieve Lainhart and get her to a medivac vehicle for treatment.
This week, Sgt. Wilson received the Bronze Star Medal with a "V" device for valor for his heroism, reports Task and Purpose.
Lainhart was unsure if she would ever get to meet Wilson following the attack, but the two were reunited at a Washington, D.C. area hospital last September.
In an online post at www.caringbridge.org, Lainhart called Wilson "her hero".
"I don't know how you were able to save my life given your injuries, but I thank God for you and your strength and that you are alive today for me to be able to thank you," said Lainhart.
Lainhart is continuing physical therapy in Chicago.
You can follow her progress at Kelsee | Journal (caringbridge.org)
RELATED STORIES
Cpl. Kelsee Lainhart Recognized On House Floor By Congressman Greg Pence
Injured U.S. Marine Moved Out Of ICU To Wounded Warrior Floor
UPDATE: Kelsee Lainhart Back In The States; Recovering At DC Hospital