Rising Sun High School's Jena Bovard is getting a full-ride scholarship to attend Butler University.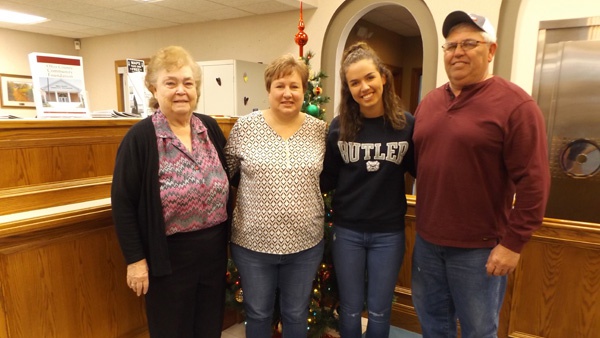 (Left to right) Peg Dickson, Executive Director of the Ohio County Community Foundation; Amy Bovard; Jena Bovard; and Paul Bovard. Photo provided.
(Ohio County, Ind.) - The Ohio County Community Foundation is pleased to announce that Jena Bovard, member of the 2019 graduating class of Rising Sun High School, has been selected as the recipient of Ohio County's 2019 Lilly Endowment Community Scholarship.
As a Lilly Endowment Community Scholar, Jena will receive full tuition to the Indiana College or university of her choice. The scholarship also covers required fees and up to $900 per year for books and required equipment. Jena is the daughter of Amy Bovard and Paul Bovard of Rising Sun.
Jena has served as the president of her class during her sophomore, junior and senior years of high school. She is a member of the Student Advisory Board, National Honor Society, Spanish Club, Science Club, Prom Committee, FCA (Fellowship of Christian Athletes), SADD (Students Against Destructive Decisions), HOSA (Health Occupation Students of America), and is a junior member of the Rising Sun American Legion Auxiliary. Jena's passion is dance. She has been a student at Roni's Dance for several years and is a competition dancer.
Jena is an active volunteer for the Ohio County Parks Board Dance Program. She has logged over 80 hours assisting the dance teacher and students during rehearsals and recitals. She has also volunteered for the Rising Sun Main Street Program assisting during the Movies on Main event. Jena is employed as a dance instructor at Roni's Dance teaching dance techniques and choreography to younger students. She is also seasonally employed at the Rising Star Casino golf course.
Jena plans to attend Butler University this fall in Indianapolis to seek a Bachelors of Health Sciences degree towards becoming a Physician's Assistant.
The primary purposes of the Lilly Endowment Community Scholarship program are: 1) to help raise the level of educational attainment in Indiana; 2) to increase awareness of the beneficial roles Indiana community foundations can play in their communities; and 3) to encourage and support the efforts of the current and past Lilly Endowment Community Scholars to engage with each other and with Indiana business, governmental, educational, nonprofit and civic leaders to improve the quality of life in Indiana generally and in local communities throughout the state. There were 143 scholarships awarded statewide for 2018-19. To date, a total of over $392 million has been provided by Lilly Endowment to fund this initiative.
The Ohio County Community Foundation is proud to administer the Lilly Endowment Community Scholarship for Ohio County. This past fall, eight scholarship applications were submitted from the senior class of Rising Sun High School. The committee uses a blind process to evaluate the applications which means the committee does not know whose applications they are evaluating. The scholarship selection includes three processes: the application, a written essay and a personal interview. The scores are based on the scholarship criteria which include academics, financial need, activities (extra-curricular, sports activities and employment), community volunteer activities and a written essay. Five finalists were selected based on their application score and were interviewed individually by members of the selection committee. After the interview process, the selection committee selects one finalist nominee and two alternate nominees and forwards the nominees information to the Independent Colleges of Indiana, Inc. which then makes the final selection of the recipient.
Independent Colleges of Indiana, Inc. is a nonprofit corporation that represents 30 regionally accredited degree granting, nonprofit, private colleges and universities in the state.
The Ohio County Community Foundation Staff, Board of Directors and Scholarship Selection Committee would like to congratulate Jena Bovard for being named the 2019 Ohio County Lilly Endowment Community Scholar.
The Ohio County Community Foundation is located at 330 Industrial Access Drive, Rising Sun. For information concerning the Lilly Endowment Community Scholarship or other scholarships administered by the Ohio County Community Foundation, please call 812-438-9401, email sscott@occfrisingsun or visit our website at occfrisingsun.com.