A teen driver was pulled from a burning vehicle back in August.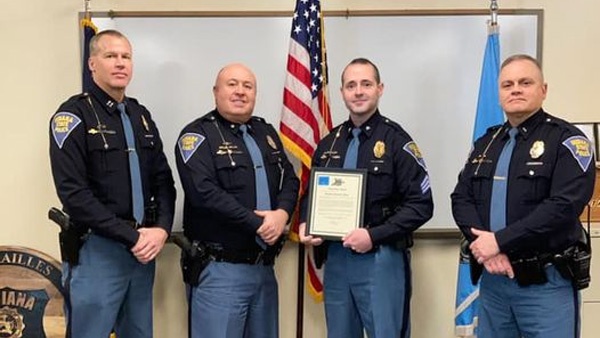 Photo by Indiana State Police.
(Versailles, Ind.) – A local Indiana State Police Sergeant has been recognized for lifesaving actions last summer.
Sgt. Jared Black with Indiana State Police – Versailles was presented with an Indiana State Police Lifesaving Award on Monday.
The award was earned during a single vehicle accident in rural Ripley County in August of 2020. Upon arriving at the scene, Sgt. Black found a 17-year-old driver trapped in a vehicle that had caught fire.
Black acted quickly and broke out the sunroof of the vehicle, freeing the driver.
He was joined by Captain Anthony Scott, Major Michael Eslinger and Lieutenant Paul Adams during the award presentation this week.