Their primary objection is a provision that would require businesses to pay for COVID-19 test for unvaccinated employees.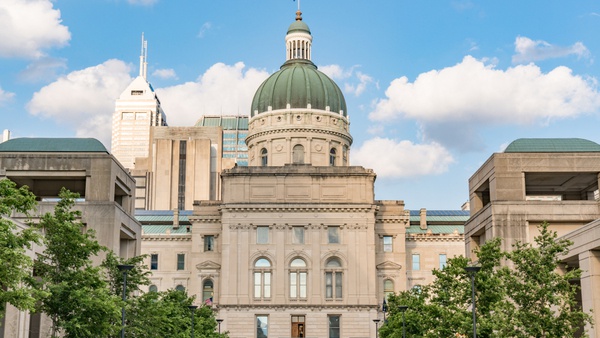 Shutterstock photo.
INDIANAPOLIS – The Indiana Chamber of Commerce has some objections to House Bill 1001
The bill, co-authored by State Rep. Randy Frye (R-Greensburg), would allow Governor Eric Holcomb's state public health emergency to expire by ensuring Indiana would continue to receive supplemental federal funding, and maintain the state's ability to hold voluntary community vaccination clinics.
The legislation would also require businesses to accept medical and religious exemptions, if they require the COVID-19 vaccine as a condition of employment, in addition to requiring businesses to pay for COVID-19 testing for unvaccinated employees.
The Indiana Chamber supports the section of the legislation regarding the emergency order and maintaining federal funding. However, the organization strongly opposes the remainder of House Bill 1001.
"House Bill 1001 contains several provisions – led by employers' footing the bill for COVID-19 testing for unvaccinated workers – that the Indiana Chamber simply cannot support. It also leaves many important questions unanswered, including around testing availability. To greatly discourage and inhibit employers from getting their employees vaccinated to promote health and safety within their workplaces – at a time when there are surging infections, hospitalizations and deaths as the Omicron variant has emerged – is simply the wrong policy in our view."
The Chamber added that businesses are in the best position to determine what the best vaccination policy is for the safety of their employees, customers, and patients.
"Our single biggest objection is that HB 1001 establishes what amounts to a new business testing tax because it requires that testing of unvaccinated employees occur at the employer's expense. This is contrary to OSHA regulations and will impose new and substantial costs on employers that have enacted vaccination requirements. It will cause many to abandon their vaccination programs and dissuade others from starting one. One medium-sized Indiana Chamber member estimates that in six months they would incur $1.2 million in testing costs."
The Indiana Chamber looks forward to discussing the details of the bill with committee members in hope of getting a bill they do not have to oppose.
House Bill 1001 went before the House, Employment, Labor and Pension Committee today.
For more information, visit Indiana Chamber - Leading Business | Advancing Indiana.
RELATED STORIES
Frye Co-Authors Bill To Help End State Of Emergency, Protect Hoosier Workers