Donnelly, who is on the ballot for re-election in November, says he will not vote to confirm Judge Brett Kavanaugh to the U.S. Supreme Court.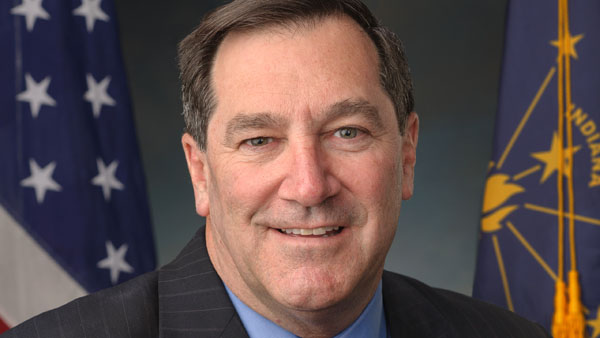 Indiana U.S. Senator Joe Donnelly (D)
(Washington) – Indiana Democratic U.S. Senator Joe Donnelly is siding with the rest of his party in vowing to vote against the confirmation of U.S. Supreme Court nominee Brett Kavanaugh.
Donnelly, who had been a "maybe" on confirming the nominee facing allegations of sexual assault, on Friday stated that he won't support Judge Kavanaugh. Donnelly called the allegations "disturbing and credible."
"Unfortunately, despite having the time and opportunity to do so, Senator McConnell has refused to allow that FBI investigation. Even the American Bar Association, which has previously rated Judge Kavanaugh as 'well qualified' has called for an FBI investigation, where we could learn more information and other potential witnesses could be interviewed," Donnelly said.
"I have deep reservations about Judge Kavanaugh's nomination to this lifetime position and, as I stated, we have been unable to get all the information necessary regarding this nomination, despite my best efforts. Only 113 people have ever served on the Supreme Court, and I believe that we must do our level best to protect its sanctity."
Donnelly said he would welcome the opportunity to work with a new nominee.
Read Joe's statement on the Kavanaugh nomination: pic.twitter.com/JvjTOKEDyF

— Senator Joe Donnelly (@SenDonnelly) September 28, 2018
Immediately, Republican challenger Mike Braun issued a statement critical of Donnelly, while reiterating his own support of Judge Kavanaugh's confirmation.
"This entire process has been an embarrassment to our democracy as Hoosiers watched firsthand how Senator Donnelly's liberal colleagues used uncorroborated allegations to create a media circus designed to smear and destroy Judge Kavanaugh's reputation," Braun said.
"Donnelly's decision to oppose President Trump's highly qualified nominee is a grave mistake, but proves he is more concerned with standing with his liberal Democrat leaders than standing for Hoosiers. I continue to strongly support Judge Kavanaugh's confirmation to the Supreme Court."
Donnelly's opposition is a move which could affect his re-election chances this November in a state which went more than 60 percent for Donald Trump in the 2016 election.
Dr. Christine Blasey Ford testified before the Senate Judiciary Committee on Thursday that Kavanaugh attempted to rape her at a party in high school more than 30 years ago. The account, the details of which have been contested by those Ford says were at the party, has been held up by Democrats as credible.
In his testimony, Kavanaugh vehemently denied Ford's claim.
Conservatives largely view the claims as flimsy at best. Many also consider the allegations a mere delay tactic by Democrats to delay a vote until after the potential "blue wave" in the November election which could give the current minority party control of the House and Senate.
Indiana's other U.S. Senator, Todd Young, last week kept his support behind Kavanaugh following the committee hearing.
"I believe Judge Kavanaugh was truthful under oath during today's hearing, and I trust the statements of the witnesses named by Dr. Ford who said under penalty of felony that they have no recollection of the alleged incident," Young said.