Voters in local cities and towns will have these candidates to choose from on November 5.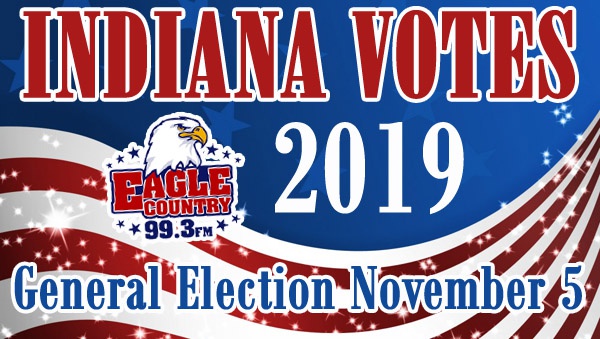 (Undated) - The election lineup for this November in southeastern Indiana is just about set.
Deadlines for political parties to hold conventions to fill vacant positions on the November 5, 2019 municipal election ballot is August 21. However, most local cities and towns have already selected their candidates through either the May primary election or a party convention.
In Lawrenceburg, there will be a three-way race for mayor between Republican incumbent Kelly Mollaun, Democratic city councilman Aaron Cook, and teenaged independent candidate Dylan Liddle.
Aurora's mayoral race is between Republican city councilman Mark Drury and Democrat Mel Kremer, Jr., a business owner and former city councilman.
Two local mayors are uncontested for the fall election. Independent Alan Weiss in Greendale and Republican Mike Bettice in Batesville are both shoe-ins for a second term at this point.
A party convention is being held in the Town of Vevay Tuesday evening, August 20. That town's candidates will be listed below when received.
Unless listed below, other towns with populations less than 3,500 will not have races on the ballot. No party conventions were held in those towns, leaving the town board and clerk-treasurer selection up to the town boards.
Early in-person absentee voting in Indiana will open on October 8.
City of Aurora
Mayor
Mark A. Drury (R)
Melvin C. Kremer, Jr. (D)
Clerk-Treasurer
Benny Turner (D)
Council At-Large
Rick Orcutt (D)
Patrick Schwing (R)
Council District 1
Dan Valas (D)
John Borgman (R)
Council District 2
Joey Turner (D)
Council District 3
Terry Hahn (D)
Council District 4
Tristica Sheckels Howard (D)
Frederick A Lester (R)
City of Batesville
Mayor
Michael A. Bettice (R)
City Court Judge
John L. Kellerman II (D)
Clerk-Treasurer
Paul Gates (R)
Council At-Large
Bill Flannery (R)
Pamela J. Simpson-Flodder (D)
Council District 1
Darrick Cox (D)
Council District 2
Tracy Rohlfing (R)
Council District 3
James A. Fritsch (R)
Andrew Cambron (D)
Council District 4
John A. Irrgang (R)
Paul Satchwill (D)
City of Greendale
Mayor
Alan Weiss (I)
Clerk-Treasurer
Mary Jo (Joey) Lynch (D)
Council At-Large (two elected)
A. Vincent Karsteter (R)
Erin Marqua (D)
Scott Libbert (I)
Council District 1
Walt (Doc) Wilson (R)
Christine Craig (D)
Council District 2
Jerry Abbott (D)
Council District 3
Matt McCool (R)
Rebecca Barhorst (D)
Council District 4
Kurt Mollaun (R)
Council District 5
Brett (Mooch) Hamilton (R)
Ty Bowell (D)
Town of Laurel
Clerk-Treasurer
Linda S. Adams (D)
Tonja M. French (R)
Jennifer R. Harris (I)
Town Board At-Large (five elected)
Gus Adams (R)
Garold H. Bulmer (R)
Peter A. Connolly (R)
Mary E Jones (D)
Rebecca L. Jones (R)
Ryan M. Trent (R)
City of Lawrenceburg
Mayor
Aaron Cook (D)
Kelly L. Mollaun (R)
Dylan Liddle (I)
City Court Judge
Joseph R. Johns (D)
Clerk-Treasurer
Richard Richardson (D)
Mark Fette (R)
Council At-Large
Brett Bondurant (R)
Paul Wayne Seymour, Jr. (D)
Council District 1
Jane Pope (D)
Tony Abbott (R)
Dennis S. Hutchins (I)
Council District 2
Regina Rybolt (D)
Justin Noppert (R)
Council District 3
Allen (Mooch) Callaway (D)
Thomas (Tom) Rowlett, Sr. (R)
Council District 4
Randy Abner (D)
Lennie Fryman (R)
Dennis Carr (I)
City of Rising Sun
Mayor
Steve Slack (R)
Clerk-Treasurer
Rae Lynn Gipson (D)
Council At-Large
Dennis "Bud" Radcliff (D)
Sunshine K. Colen (R)
Council District 1
James McDaniel Jr. (R)
Lisa Hewitt Williams (D)
Council District 2
William "Bill" Marksberry (D)
Council District 3
Thomas McKay Sr. (R)
Sheena Graham (D)
Council District 4
Dennis W. Williams (R)
Garry Forwood (D)
Town of West Harrison
Clerk-Treasurer
Christina M Swafford (R)
Town Council (three elected)
Rick Bischoff (R)
Marshall Eugene McAdams (R)
Joy Reindl (D)
Danny J Scott (D)