Indiana's House and Senate remain firmly in control of Republican lawmakers.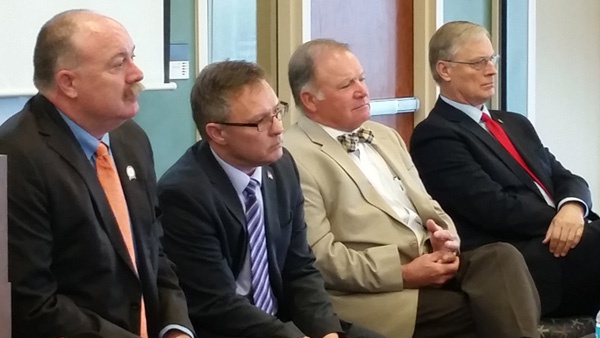 Southeastern Indiana lawmakers (Left to right) Sen. Chip Perfect, Sen. Jeff Raatz, Rep. Randy Lyness, and Rep. Randy Frye. File photo.
(Lawrenceburg, Ind.) - Statehouse races came up red more often than not Tuesday, helping the GOP maintain supermajorities in the Indiana House and Senate.
All 100 seats in the Indiana House were up for grabs. State Rep. Randy Frye (R-Greensburg) won re-election in House District 67 with 77 percent of the vote. Military veteran Cordelle Feuston's active campaign was not enough to shift the heavily-Republican district.
"You never know in an election. You go out there and work hard and you talk to the people. It is very rewarding when it comes out in our favor," said Frye, who is returning to Indianapolis for a fifth term.
Another local Republican, West Harrison's Randy Lyness, won re-election in House District 68. His opponent was Hidden Valley resident Matt Gaustad.
As the dust settled Tuesday night, Democrats had gained only one seat in the House, ensuring a 70-30 supermajority for the GOP for the next two years. Former Democratic State Rep. Mara Candelaria Reardon defeated Republican State Rep. Bill Fine in northwestern Indiana's District 12.
Half of the 50 seats in the Indiana Senate were involved in this election. Republican State Sen. Jeff Raatz of Centerville cruised to victory in Senate District 27 over Sunman Democrat Jake Hoog.
State Senator Chip Perfect, of Lawrenceburg, was unchallenged in his re-election in Senate District 43.
Republicans gained one Senate seat, taking a 41-9 advantage there.
Keeping a supermajority in the House and Senate, along with Republican Eric Holcomb as Governor, gives the GOP protection from a Democrat walkout. The party has had a supermajority in both chambers over the past four years.
"We're doing things that people like, and that's what it is all about," Frye observed.
Legislation passed by the Republican-controlled legislature in recent years includes expanding private school vouchers, reducing regulations, and increasing the state gasoline tax to help fund hundreds of millions worth of road improvements.