The company gave an update to stockholders last week, with plenty of insight on Rising Star Casino in Rising Sun.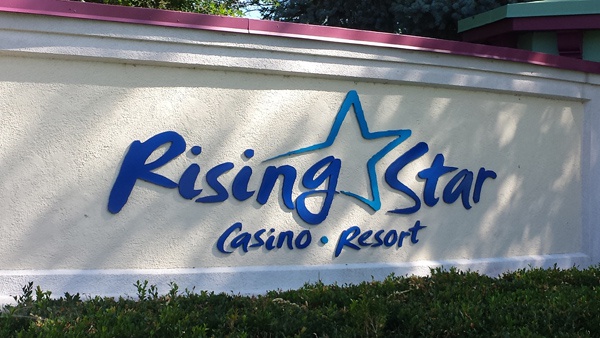 File photo
(Rising Sun, Ind.) - The company which owns Rising Star Casino in Rising Sun is hoping that the addition of sport betting will help its bottom line.
Las Vegas-based Full House Resorts released a second quarter earnings update to stockholders Thursday, August 8. CEO Dan Lee said sports betting is expected to be offered at Rising Star Casino starting this fall.
"Through our online sports wagering partners, anyone in the state -- including those living in the populous areas around Indianapolis and Northwest Indiana -- will be able to conveniently place sports wagers from anywhere in the state via the Internet. Given the positive impact of sports wagering at our Silver Slipper Casino in Mississippi over this past year, we expect sports wagering to have a significant impact at Rising Star," said Lee.
Indiana lawmakers moved to legalize sports betting at the state's casinos earlier this year. The first bets could be placed September 1, if the Indiana Gaming Commission approves rules and regulations for the activity toward the end of this month.
All of Indiana's casinos have applied to offer sportsbetting.
Lee added that the company anticipates working with three online sports wagering partners, each offering online betting and an on-site sportsbook.
The Full House Resorts stockholder update included several other notes on Rising Star Casino.
Several new "key property directors" were added at the local riverboat in the second quarter.
Lee partly attributed a drop in revenues at Rising Star – they fell from $12.5 million in the 2018 second quarter to $11.6 million this year's second quarter – to repaving of U.S. 50, one of the main highways leading to the casino.
Because of the construction adversely affecting operations, the casino decided in May to make its new MS Lucky Lady ferry on the Ohio River free to all vehicles every day. The ferry, which first debuted last year, saw record usage in July. Weekday and weekend usage of the ferry boat in July grew 69 percent and 56 percent versus June, respectively.
"As a result of the increased ferry traffic, management has decided to continue to operate the ferry on a free basis, believing the increased traffic is more important to the casino than the ferry revenue," the company said.
Full House Resorts is also evaluating whether to pursue a potential expansion opportunity with a new casino in Terre Haute, Indiana approved under a new state law. That law also reduces some gaming taxes for Indiana casino operators starting July 1, 2021.
RELATED STORIES:
AP Report: Indiana Sports Betting Could Be Up And Running By NFL Season
Indiana Gaming Commission Releases List Of Approved Events For Sports Betting
Hollywood, Belterra Among Sports Betting Applicants
Governor Signs Law To Legalize Sports Betting, Casino Tax Changes That Could Harm Local Cities
SEI Casino Towns Hit Hard: Lawmakers Pass Sports Betting, Casino Gaming Bill After Last Minute Changes