The newly signed law could result in drastically less money for casino host communities like Lawrenceburg and Rising Sun, which won't receive direct revenues from legalized sports betting at their casinos.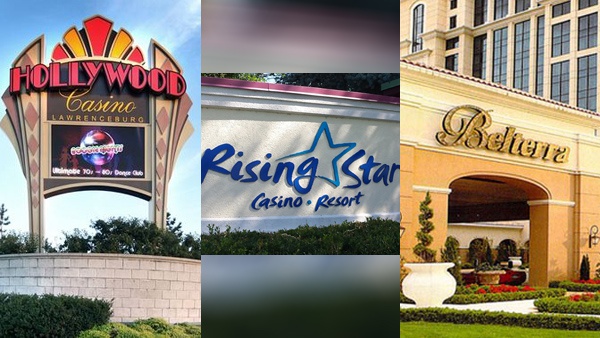 (Indianapolis, Ind.) - Hoosiers are about to have a lot more options when it comes to placing a bet under a newly signed law, but southeastern Indiana casino host communities may suffer.
Governor Eric Holcomb signed Wednesday a package to legalize sports betting, open-up live table games at the horse track racinos in Shelbyville and Anderson next year, allow for a new casino along I-80 in Gary, and allow a casino for Terre Haute.
The governor called House Enrolled Act 1015 a modernization of Indiana's gambling landscape.
"Gaming is a highly regulated industry that once had little competition, but now does from surrounding states and new technology," said Holcomb.
"By modernizing our laws, this legislation will spur positive economic growth for our state and for an industry that employs over 11,000 Hoosiers. Additionally, it will bring in new revenue and create hundreds of new jobs – both permanent and in construction. I will direct the Indiana Gaming Commission to monitor for potential effects of this bill so that we can make necessary changes in future legislative sessions."
Wednesday was the final day Holcomb could sign the bill into law or veto it without it automatically becoming law without his signature.
Although it will help other Indiana cities with new revenue, the new law reduces tax rates for casinos in Rising Sun and Lawrenceburg. The tax reduction was lawmakers' idea to help make those casinos more competitive and profitable as in- and out-of-state competition increases.
The tax changes set to take effect in 2021 will impact gaming revenues the two cities have become dependent on. The City of Rising Sun is expected to receive over $600,000 less in gaming revenue, based on 2018 casino revenue figures. Lawrenceburg stands to take an estimated hit of at least $300,000.
Local lawmakers such as State Rep. Randy Frye (R-Greensburg) who opposed the final version of the gaming bill have vowed to fight to get hold harmless provisions established for Rising Sun and Lawrenceburg before the tax changes kick in two years from now.
"They paid for it – they being some of my colleagues in the general assembly – by taking money away from Rising Sun and Ohio County instead of taking it out of the general fund or across the state," Frye told Eagle Country 99.3 last week.
In past gaming bills, lawmakers have eased the impact of revenue changes for casino host communities by promising a minimum amount of revenue. While some cities in northern Indiana received hold harmless consideration in HEA 1015, some southern Indiana casino cities did not.
Indiana becomes the third state this year to legalize sports betting this year. Last year, the U.S. Supreme Court delivered a landmark decision allowing sports wagering nationwide.
Although Indiana casinos will be allowed to host sports books, all the revenue from then 9.5 percent tax on sports wagering will go to the state – none for casino host communities.
Sports betting on professional and college sports could be available in Indiana as soon as September.
Just like visitors to a casino, those placing bets on sporting events must be at least 21-years-old. Gamblers will be able to place bets using mobile devices after registering at an Indiana casino, a provision that was reinserted into the bill as final-hour negotiations took place before lawmakers adjourned the 2019 session.
RELATED STORIES:
AUDIO: State Rep. Frye Laments Negative Impacts Of Gaming Bill