Steve Linville, a former fuel delivery driver for a Ripley County co-op, is still in prison.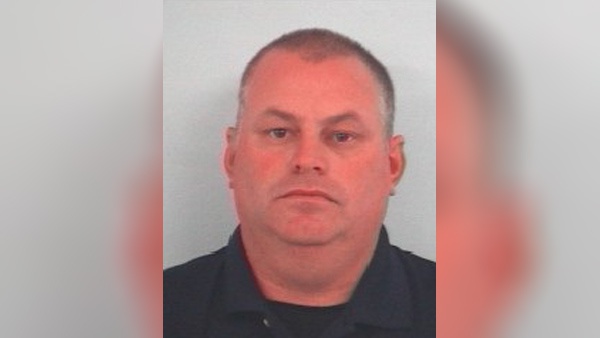 Steve Linville appealed his sentence to the Indiana Court of Appeals, winning part of the argument in March 2019. Photo by Ripley County Sheriff's Office.
(Ripley County, Ind.) - A former fuel delivery driver serving prison time for scamming dozens of local businesses out of fuel they paid for will get to pay less money in restitution.
Steven Linville, of Osgood, was a former driver for Laughery Valley Ag Co-op in Ripley County who was caught by his employer shorting customers on fuel they ordered. After issuing customers a false receipt, he would sell the extra fuel he had not delivered to the paying customers to an Osgood service station owned by his uncle.
In October 2017, he pleaded guilty to three counts of Theft (level 6 felony) and three counts of Delivery of False Sales Documents (level 6 felony).
Linville was sentenced the following February to 15 years – 12 in prison and three on probation.
He was also ordered by a Ripley County judge to pay more than $98,310.30 in restitution to Laughery Valley Ag Co-op. The number was only a quarter of the at least $369,426 in sales proceeds Linville gained through the scheme from 2011 until 2015.
After his sentencing in February 2018, Linville appealed the length of his sentence and the amount of restitution to the Indiana Court of Appeals.
The sentence, his attorneys argued, was inappropriate. Judges on the appellate court disagreed in a March 2018 opinion and upheld the Ripley County judge's sentence imposed on Linville.
"In light of Linville's character and offense, we see nothing inappropriate about his fifteen-year sentence, three of which were suspended to probation, and we affirm the length of his sentence," the appellate court stated.
On the matter of restitution, however, Linville was successful in getting that dollar amount reduced. The three-judge panel unanimously agreed that Linville's plea agreement was not to all seventeen thefts he was originally charged with, so he could not be ordered to pay all $98,310.30 in restitution while being convicted of only six crimes.
"At the restitution hearing, the witness for Laughery Valley testified the restitution it was requesting was based only on sixty-one checks written to Linville from Bob's Service Station," the appellate court's opinion reads. "As such, Laughery Valley was not requesting reimbursement in this criminal context for any other form of loss caused by Linville's actions."
The amount of restitution was reduced from $98,310.30 to $35,729.00.
Linville is currently still in prison serving his 12 years before being released to probation.
RELATED STORIES:
Linville Was "Bernie Madoff" Of Fuel Delivery In Ripley County
Former Co-Op Employee Pleads Guilty To Stealing, Selling Fuel
Man Accused Of Stealing Fuel, Oil From Business; Allegedly Sold To Uncle