The annual event was held on February 23 at Brookville Lake.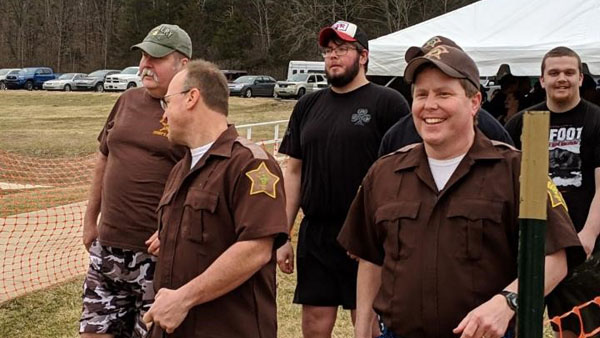 Front: Sgt. Adam Henson (left) and Deputy Jason Lovins (right). Center: Transport Officer Scott Stirn (left) and Deputy Kyle Hartman (hidden). Photo by the Franklin County Sheriff's Department.
(Franklin County, Ind.) – Even when Franklin County Sheriff's deputies aren't serving and protecting, they are still helping those around the community.
On February 23, deputies took part in the 2019 Polar Plunge at Whitewater Memorial State Park at Brookville Lake.
The annual Polar Plunge is the top fundraiser for Special Olympics Indiana, allowing our local special Olympians to train year around and participate in local, state, national and even international competitions.
Deputy Jason Lovins and Greensburg Police Chief Brendan Bridges had the honor of kicking off the event as torch bearers. Each were flanked by an Indiana Special Olympian.
"This is for such a great cause." said Deputy Lovins. "It was an honor to have been asked to be a torch bearer and take the plunge with these two wonderful athletes." Deputy Lovins continued.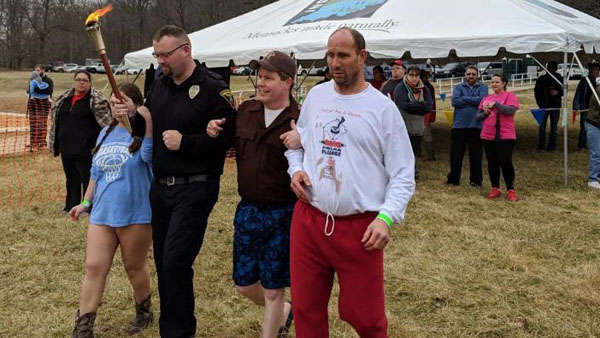 Torch bearers kick off the 2019 Polar Plunge at the Whitewater Memorial State Park beach. Photo provided.