Kelsey James has been named the 2019 winner of the Lilly Endowment Community Scholarship by the Franklin County Community Foundation.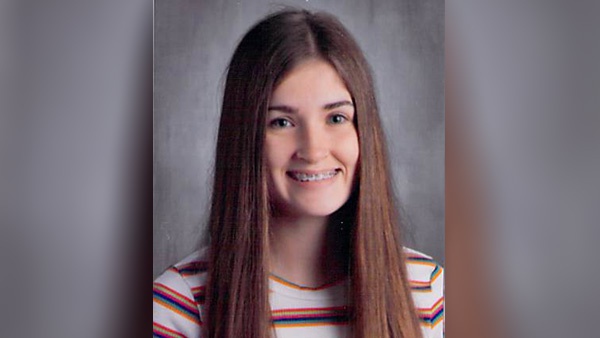 Kelsey James has been named the recipient of Franklin County's 2019 Lilly Endowment Community Scholarship. Photo provided.
(Franklin County, Ind.) - One student from Franklin County has been named recipient of a full-tuition, four-year scholarship as the Franklin County Community Foundation 2019 Lilly Endowment Community Scholar.
Kelsey James will receive full tuition to an Indiana accredited public or private nonprofit college or university of her choice and a $900 yearly stipend for required books and equipment. Finalists Taylor Stewart, a Franklin County High School student who is the daughter of Matt and Kelly Stewart, and Isaac Selm, a Franklin County High School student, who is the son of David and Jennifer Selm, will receive $500 scholarships from the FCCF operational fund.
Kelsey James of Brookville is the daughter of Michelle James and Edward James. A Franklin County High School student, Kelsey is the current President and three-year member of FCCLA as well as a member of the National Honor Society, Student Council, Spanish Club, Prism Club, and MCATZ. She is also on Dr. Howell's Student Advisory Board and is a member of the School Improvement Committee. Kelsey volunteers for United Way Day of Caring and Backdoor Ministries.
Kelsey will attend Indiana University and intends to pursue a career teaching English. She would like to continue her studies in dialect by taking three to four languages while in college.
"After graduating from college, I aspire to travel the world and teach Korean, Chinese, Spanish and English," she said. "I believe that the adventure of learning a new language is one that is not only worthwhile, but is extremely eye-opening."
The three finalists were selected from 43 applications submitted from eligible high school seniors who are residents of Franklin County. A well-respected volunteer selection committee, made up of members outside of the foundation board and staff, reviewed applications and interviewed the students.
The selection committee submitted the finalists' names to Independent Colleges of Indiana, Inc. (ICI) for selection of the recipient. ICI is a nonprofit corporation that represents 30 regionally accredited degree granting, nonprofit, private colleges and universities in the state.
The primary purposes of the Lilly Endowment Community Scholarship program are: 1) to help raise the level of educational attainment in Indiana; 2) to increase awareness of the beneficial roles Indiana community foundations can play in their communities; and 3) to encourage and support the efforts of the current and past Lilly Endowment Community Scholars to engage with each other and with Indiana business, governmental, educational, nonprofit and civic leaders to improve the quality of life in Indiana generally and in local communities throughout the state. There were 143 scholarships awarded statewide for 2018-19 adding to a total of over $392 million provided by Lilly Endowment for tuition and book stipends to date.
The Franklin County Community Foundation is proud of every high school graduate in Franklin County. Choosing a student to represent our community is a difficult process for the Lilly Scholarship Selection Committee. The FCCF Scholarship application will be available early in February to award more than 50 additional scholarships that are created and funded by Franklin County citizens.
For more information about the Franklin County Community Foundation, visit www.franklincountyindiana.com or call (765) 647-6810.