Dearborn County economic development leaders expect a private developer to bid on a project which could include a $10 million warehouse on Harrison-Brookville Road.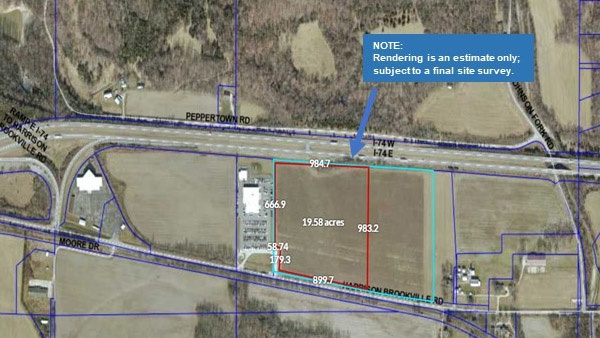 A map of the West Harrison TIF district. The site identified for a possible speculative building is outlined in red. Image via Dearborn County Redevelopment Commission.
(West Harrison, Ind.) - Economic development officials in Dearborn County expect a company to submit a bid to build a sprawling warehouse in West Harrison.
The hope is that the warehouse will someday soon house an employer providing new jobs.
The Dearborn County Redevelopment Commission in May put out a request for proposals seeking a developer willing to enter into an economic development agreement requiring them to invest at least $10 million in site improvements, equipment, and expenses to construct a 320,000 square foot speculative building in the West Harrison TIF district along Harrison Brookville Road.
A speculative building is an empty building which a future business could use for a future business to move into. The commission's RFP wants the winning developer to aggressively market the building at the developer's expense to find "a mutually approved tenant that will provide meaningful employment opportunities."
"Eighty percent of employers are looking for sites with an existing building," says Terri Randall, president and CEO of local economic development organization One Dearborn, tells Eagle Country 99.3.
It appears the commission may have at least one bid for the project. A developer has submitted a letter of intent to purchase about 19.5 acres of land just east of Hirlinger Chevrolet in the TIF district. The parcel, currently 36 acres, is owned by the redevelopment commission.
Randall believes the deal would be low-risk for the county. That's because the developer would be paying for all of the construction. They would also own the land and begin paying taxes on it. Due to those considerations, the developer would be highly motivated to find a tenant for the spec building.
A bid for development on the land does not mean that the project is a done deal, Randall cautions.
"There would be due diligence (site testing, etc.) and legal agreements that would need to be negotiated and executed before an official land closing," Randall says. "Also, any developer or project would be required to sign an Economic Development and Purchase Agreement outlining commitments/requirements."
The developer's name is not being published until formal bids for the RFP are opened by the Dearborn County Redevelopment Commission on Friday, June 14.
"Assuming the developer who put forward the LOI does provide an offer, it will be very public at that time and the developer should expect the same," says Randall.