The chase began Wednesday night on Interstate 71 in Cincinnati and was brought to an end in Indiana.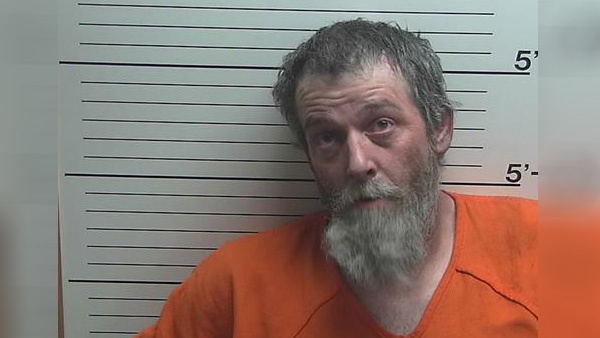 Tony R. Henson. Photo by Dearborn County Sheriff's Department.
Update published at 7:39 a.m.:
(Dearborn County, Ind.) – A semi truck driver allegedly attempted to ram a Cincinnati police officer and drove on tireless rims before he finally surrendered in southeastern Indiana Wednesday night.
Tony Henson, 45, of Cynthiana, Kentucky, is in jail at the Dearborn County Law Enforcement Center on charges of Resisting Law Enforcement and Possession of Paraphernalia. He'll likely face more charges in Ohio and Kentucky after the wild chase.
According to a news release from the Dearborn County Sheriff's Department, a Cincinnati officer attempted to initiate a traffic stop on the semi tractor driven by Henson in the city. However, Henson failed to yield to the officer's signal to stop and allegedly attempted to ram the officer multiple times.
Henson drove away in the big rig on Interstate 471 into northern Kentucky. Several Kentucky officers joined the pursuit as he continued onto Interstate 275.
Tire deflation devices were deployed in multiple locations along I-471 and I-275. The tires of the semi were deflated and then fell off the rim, according to the sheriff's department.
Henson continued to flee across the Carroll C. Cropper Bridge into Indiana. Shortly afterwards, the chase came to an end and Henson was taken into custody without further incident.
Seven hypodermic needles and two glass pipes for smoking methamphetamine were allegedly found in Henson's possession.
"These are allegations and the accused are presumed innocent until proven guilty," said Dearborn County Sheriff Shane McHenry.
McHenry says Henson's bond was set Thursday at $750,000 surety and $20,000 cash.
Agencies assisting in the pursuit included Cincinnati Police, Boone County Sheriff's Department, Cincinnati-Northern Kentucky Airport Police, Greendale Police, Lawrenceburg Police, Greendale Fire Department, and Walker's Towing.
Original story published at 6:36 a.m.:
(Dearborn County, Ind.) - For the second time in as many weeks, a police chase which began in another state came to an end in southeastern Indiana.
A suspect was attempting to evade police in a semi truck on Interstate 71 southbound in Cincinnati at around 10:30 p.m. Wednesday. The fleeing driver continued to flee onto I-471 into northern Kentucky, then westbound on I-275.
The chase ended in Dearborn County. A suspect was reportedly taken into custody.
Further details surrounding the police chase, including the suspect's identity, have not been released.
The pursuit of a stolen police cruiser from Forest Park, Ohio was brought to an end by Greendale, Lawrenceburg and Dearborn County authorities on I-275 in Greendale last Thursday, March 7.
RELATED STORIES: